Student Leadership and Representation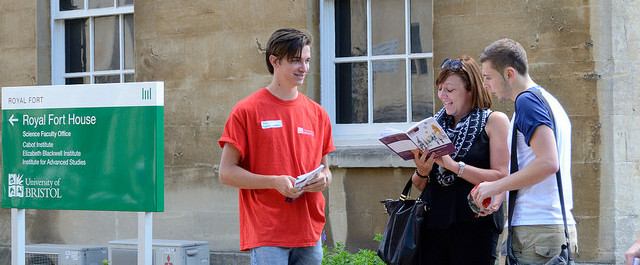 Student Leaders take on the responsibility of a leadership position in any aspect of their life. This could be a role within University or externally. Student Representatives are formal university posts, often elected by student to represent the interests of their peers.
Access myopportunities to find out about the opportunities available to you
Examples of the types of opportunities available include:
Student representation within the University

It is important for the student voice to be recognised within the University and to be heard by those considering Bristol University. You can get involved with opportunities to become a Student Ambassador or can have the opportunity have your voice heard through focus groups and feedback opportunities with various departments within the University.

Student Representation with Bristol SU

Bristol Student Union (SU) is a democracy, meaning that students elect their fellow students to lead the SU and represent the student body. Leadership and representation roles vary from leading on student experience in halls of residence, to full time officers focusing on improving student experience at Bristol, to academic course reps feeding back student views on their educational experience.

Student representation on external networks

You are the experts on education as you are experiencing learning and teaching every day. As a result, you can be a useful voice and offer an interesting perspective to business and education strategies. These opportunities have either involved infrequent face-to-face committee or network meetings or have been remote opportunities where all interaction is done online via web video or messaging services. For example, become a board member to advise JISC on their business strategy or search for opportunities to become a school governor.