Mentoring and peer support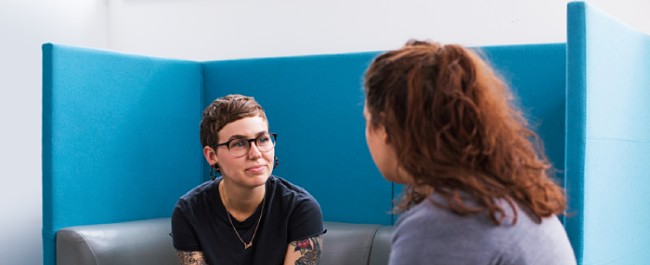 There are a range of opportunities to both be mentored and to become a mentor, and to benefit from involvement in peer support groups.
Mentoring engagement opportunities include both when students act as the mentor and when acting as the mentee. For example, this may be mentoring fellow students, mentoring to support local youth initiatives or having a professional from a career that you are interested in becoming your mentor. Being a mentor or mentee can help you develop important skills such as providing and receiving feedback.
Peer support involves engaging fellow students to support them in an academic or pastoral capacity. This could be in a 121 or group capacity, over a short or extended period. Getting involved with peer support schemes is a great way to develop skills in active listening and interpersonal skills.
Examples of the types of opportunities available include:
Mentoring and peer support within the University
There are many different options that are available to you whilst at university to take on the role of a mentor to fellow students. Opportunities are always changing and your eligibility to take part will vary depending on a variety of factors including the year you are in and the course you study.
Peer Support Mentor

The peer support mentor scheme is designed to help new students settle into life at university. Your mentor will usually study a similar subject to you. They are there to listen when you need to talk and to answer any questions you have about your course in general or university life.
Peer Assisted Study Session (PASS) Leader

Peer Assisted Study Session leaders are trained students from later years of their course that run student-led study sessions. The study sessions are friendly and informal, giving you the opportunity to focus on the subject areas you want to work on.
Mentoring in the local community
You could also undertake an opportunity to be a mentor in the local community. Opportunities have included being one-to-one with refugees and asylum seekers or supporting children in Primary and Secondary schools. There are also online e-mentoring opportunities which are a great way to get involved on a flexible basis and may suit you if you are apprehensive about face-to-face interactions.
There are also a range of opportunities to mentor aspiring Bristol students and young people in the community. The University of Bristol has a partnership with intoUniversity, an organisation that supports students to become mentors.
Visit myopportunities to find out about the 'ideas and challenges' opportunities available to you
Bristol Connects is an exclusive, online space for alumni, students, and staff. It is a platform for old friends to reconnect and it features many ways for alumni to give support and advice to current students.