Sustainability within our courses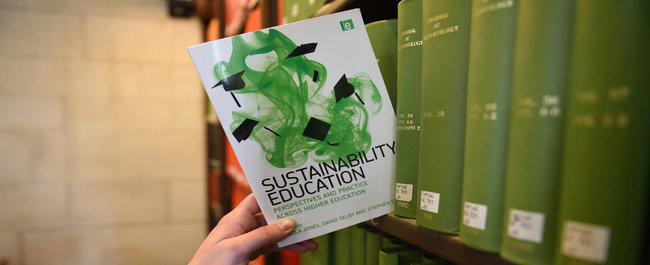 Our Education for Sustainable Development (ESD) project is an ambitious, University-wide venture which aims to enable every one of our students to gain the knowledge, skills, attitudes and values needed to create a sustainable future.
Our understanding of ESD is based on the UNESCO definition of sustainability, which calls for respect for:
the dignity and human rights of all people throughout the world, with a commitment to social and economic justice;
cultural diversity, with a commitment to build a culture of tolerance, non-violence and peace;
the rights of future generations, with a commitment to intergenerational responsibility;
the greater community of all life forms, including the protection and restoration of the Earth's ecosystems.
This framework also stresses the importance of critical thinking, using interdisciplinary approaches to challenge existing ideas about what – and how – we learn.
Education for Sustainable Development at Bristol
Our ESD team works closely with students and academic staff to embed these concepts into our curriculum. In doing so, our students learn how the decisions they make will impact on the world, and how they can challenge and build upon existing concepts of ecological sustainability and social justice.
To ensure that we understand the changing nature of the formal curriculum, we conduct regular reviews of the ESD content within all our units and programmes. This helps shape our engagement with academic schools. We provide a wide range of online resources, tailored for each school, as well as delivering training sessions to staff and students as part of the CREATE scheme, the University's continuing professional development scheme for academics.
Green Apple Scheme
A key method for embedding ESD within the curriculum is through the Green Apple Scheme, a funding mechanism that supports academics who wish to develop new teaching and learning practices. Through this scheme, teaching staff receive support to develop projects that embed ESD principles within their discipline, and students can contribute ideas and suggestions to help shape the future of their courses.
Did you know?
Over 85 per cent of undergraduates have an opportunity to study sustainability within their course.