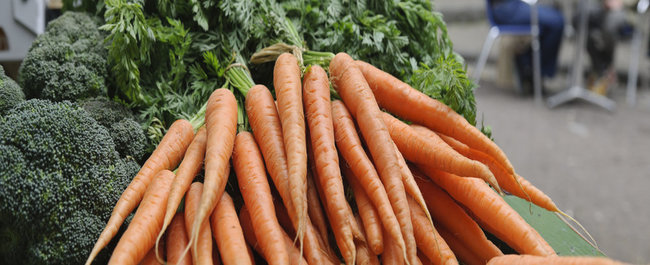 Food
Our hospitality team strives to offer well-balanced, healthy and sustainable catering for students, staff and visitors. We produce food in ways which avoid negative environmental impacts, enhance animal welfare and provide social benefits.
Avoiding waste
We encourage our Source Cafe customers to buy a high-quality reusable Keepcup, to reduce the amount of disposable cups ending up in recycling waste. We avoid sending waste to landfill by using compostable packaging for all our in-house takeaway products.
We recycle waste cooking oil from all our catering kitchens, which is then converted into biofuel for the lorries that deliver to us. Every 1,000 litres of waste oil recycled represents a saving of two tonnes of carbon.
Supporting Refill Bristol
We actively support Refill Bristol, an alternative to purchasing bottled water, by providing access to mains drinking water points all over the campus. This enables our staff, students and visitors to refill water bottles or cups and reduce the impact of single-use plastics.
Find your nearest campus Refill station:
Richmond Building – 105 Queens Road, BS8 1LN

Beacon House - Queens Avenue, BS8 1SE

Geographical Science – University Road, BS8 1SS

Wills Memorial Building – Queens Road, BS8 1RJ

School of Education – 35 Berkeley Square, BS8 1JA

Merchant Ventures Building – 75 Woodland Road, BS8 1UB

Queens Building – University Walk, BS8 1TR

School of Chemistry – Cantock's Close, BS8 1TS

Biomedical Science Building – Tankard's Close, BS8 1TD

School of Maths – University Walk, BS8 1TW

Arts and Social Science Library – Tyndall Avenue, BS8 1TJ

Wills Physics Laboratory – Tyndall Avenue, BS8 1TL

Senate House – Tyndall Avenue, BS8 1TL

Priory Road Complex – 12 Priory Road, BS8 1TU
Local sourcing
We support local businesses wherever possible and use local suppliers for a large range of products including our fruit and vegetables, dairy, bakery and meat. Using seasonal produce not only helps reduce our negative environmental impact, but also helps to keep our prices affordable and accessible for all.
We encourage students to consider the ethical and environmental implications of where they buy their food, and have a partnership with Bristol Community Farm, so students can order vegetable boxes delivered to their residences.
We are working towards Bristol's city wide bid to be a Sustainable Food City - Gold Level. Going for Gold is a city-wide effort to change food in Bristol for good, and be recognised as a Gold Sustainable Food City by the end of 2020. Bristol is Going for Gold by taking major steps to improve our city's food system in six key Food Action Areas. 'Buying Better' is one of these Action Areas, along with Eating Better, Food Waste, Urban Growing, Food Equality and Community Action.
Did you know?
Waste oil from our kitchens is converted into biofuel, which is used to power the lorries delivering to campus. Every 1,000 litres of oil recycled represents a saving of 2 tonnes of carbon.