View all news
Bristol engineers elected as Fellows of the Royal Academy of Engineering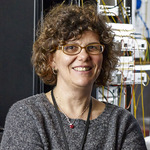 30 September 2019
Professors Dimitra Simeonidou and Jonathan Cooper from the University of Bristol's Faculty of Engineering have been elected as Fellows of the Royal Academy of Engineering in recognition of their outstanding and continuing contributions to the profession.
Professor Simeonidou, Director of Smart Internet Lab and the co-Director of Bristol Digital Futures Institute, is an expert in Telecommunications Networks and advancing the fields of Optical, Data Centre and 5G networks. She is the first woman at Bristol to be awarded a Royal Academy of Engineering fellowship.
In 2016, she received the prestigious Royal Society Wolfson Research Merit Award for her 'novel vision for future cities through digital infrastructure programmability'.
She was instrumental to enable the UK to lead on 5G deployments involving sectors such as culture/creative, public safety, transport, tourism. Along with co-founding one of the UK's prominent start-ups specialising in software platforms for smart infrastructures - Zeeta Networks.
Professor Simeonidou said: "I am thrilled to be recognised with this Fellowship and to be joining an organisation that promotes engineering innovation excellence that benefits all. Yet the research that I lead would not be possible without my brilliant research team and academic colleagues within the High-Performance Networks group. This recognition is a mark of their world-leading research in Telecommunication's' Networks. Engineers at University of Bristol are proving that the UK can be a driving force in the development of Future Internet technologies."
To read the full press release please see here.
Further information
The Smart Internet Lab at the University of Bristol and our 5GUK Test Network
The Smart Internet Lab at the University of Bristol is a hub for internet research which addresses grant societal and industrial challenges. We perform cutting edge research on optical and wireless communications and offer a unique holistic approach to hardware and software co-design, solving critical problems in the global internet evolution. We are world leaders in 5G convergence research and have deployed 5G capability in Bristol city centre focusing on the convergence of fibre infrastructure and 5G wireless access. The University of Bristol's 5GUK Test Network is the UK's first urban 5G End-to-End Testbed.