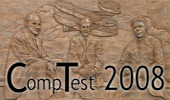 Proceedings
In keeping the conference informal, there will be no paper proceedings. Abstracts and electronic presentations will be distributed on CD-ROM. The scientific committee will propose a selection of papers for publication in Composites Part A: Applied Science and Manufacturing.



Presentation Files and Photos: note to attendees
Please click the "Attendees' Page" link (on the main menu to the left) to access the presentation files and links to the conference photos.