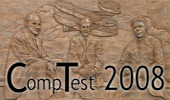 Instructions for Authors
Abstract Submittal: a 500 to 600-word abstract should be submitted electronically by 4 April 2008 (note new deadline). Please submit the Microsoft Word document, as an email attachment, to: snead@udayton.edu. 36 papers (including three keynote lectures) will be accepted for full 30-minute presentations. The balance of accepted abstracts will be accepted as poster presentations. A full written paper is not required for the conference.

Following the conference, and based on the advice of the scientific committee, selected papers will be invited to submit full manuscripts to Composites Part A: Applied Science and Manufacturing.

Poster presenters will be provided an easel and foam board, 30" x 40" (760 mm x 1015 mm) for mounting the poster. In addtion, push pins and clips will be provided to attached the poster materials to the foam board. Authors can choose to bring large single posters, or small page sections which can then be arranged as desired using the push pins.

Authors making full presentations can connect their own laptop into the projection system, or use the computer provided (and PowerPoint software). If they choose the second option, they can bring their presentation on a CD or USB drive.

Both the full and poster presenters will be required to submit their presentations electronically by Monday, 6 October. The presentations will be assembled into a CD and distributed at the conference. The presentations need to be submitted by email (as an Adobe Acrobat pdf file) to snead@udayton.edu.