Why fundraise?
It costs the Anthony Nolan Trust £70 for each person to join the Bone Marrow Register. Therefore, throughtout the year, Bristol Marrow fundraises for the ANT to help them cover the cost. We are always looking for new ideas to help raise money for the ANT so if you have any ideas then contact us!
Recent Events
2009/2010
Marrow Graffiti Party -October 2009
To kickstart another amazing year of Marrow we're having THE party of the year. Tickets include white t-shirts for you to graffiti away. Get your pens at the ready and prepare to get messy. More details to follow....Watch This Space.
2008/2009
Marrow's Marvellous Auction - 24th November 2008
Bristol Marrow are hosting their very own charity auction in the Mandela Bar of the Union on 24th November from 7.30pm, with the bar opening from 6.30pm. It promises to be a great night, with a massive list of marvellous lots! Many local businesses have been very generous for their contributions, and we wish to thank them all for all of the lovely gifts that have been donated. For a list of lots, and for further information, please click here.
We look forward to seeing you there!
2007/2008
Joe Public's gig - 10th October 2007
Bristol Marrow held a gig at the beginning of this term to promote its cause, launch itself for the year and also raise funds for its partner organisation, the Anthony Nolan Trust.
The gig featured a diverse group of bands, with acoustic numbers from Cameron and Pete (as well as the fantastic Rob who must have covered AT LEAST a hundred songs in under 15 minutes!), to Bangers and Nesh who provided some sharp Ska edge to some pop classics. Last up was Helele who provided rich, fusion beats and generally wowed the crowd with their own style of afro jazz.
The gig raised in excess of £700 and really helped put Marrow on the map in terms of how much people know about our group and what it does. During the evening we took the opportunity to tell people a little more about what bone marrow transplantation is and why it is necessary, whilst publicising throughout the night through the use of leaflets and posters distributed around the venue.
Thanks to everybody who came or helped and if you missed out on this event keep an eye on this page and the photos section for pictures of the event soon!
2006/2007
Last year , Bristol Marrow held a street collection in Bath city centre on the 29th October. The committee, with bright yellow buckets, started collecting at one o' clock and by the evening, we managed to raise over £100!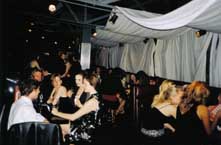 Our cake sales at clinics went down a real treat with everything from mince pies to flap jacks being on sale. Our fundraisers have been hard at work baking cakes for all the clinics this term and we hope to continue the success at our clinics next term.
The next term, we organised a bag pack at Sainsbury's in Clifton Down. Keep a look out on the news section for more information on these events.
| | | |
| --- | --- | --- |
| Last year Bristol Marrow also received a donation from the Alumni Foundation at Bristol University to the value of £648. This generous contribution will be invested in first aid training for the Bristol Marrow committee enabling each of us to act as first aid officers at clinics throughout the year. Finding and securing someone adequately trained in first aid skills for our clinics has been difficult at times and we hope that the course will enable our clinics to be carried out more easily. We would like to thank the Alumni Foundation for their generosity. | | |