The lots...
1. Meal for 2 with wine up to the value of £25 – Slug and Lettuce, Corn Street
2. 2 main courses – All In One, Park Street
3. Cake – Patisserie Valerie, Triangle
4. 1 hour lesson in jewellery making, worth £25 – Bdelicious, Triangle
5. Manicure and pedicure – iCandy
6. 2 tickets to Bristol Zoo
7. Meal for 2 at Dragon Kiss, Whiteladies Road
8. Silver Sybil necklace – Diana Porter Contemporary Jewellery, Park Street
9. £25 Casa Mexicana voucher, Zetland Road
10. Free cut and finish – Mack Daddy's, Gloucester Road
11. Men's Hoody and T Shirt – My Yard, Park Street
12. Women's T shirt and skirt – My Yard, Park Street
13. Grant's whiskey – Grapes, Clifton
14. Photo frame – Sense, Clifton
15. £20 Jungle Rumble voucher
16. Meal for 2 at Fisher's, Clifton
17. Party dress – Sticky Neon, Park Street
18. South America guidebook and children's weather book – Stanfords, Corn Street
19. Lunch for 2 at Number 10, Zetland Road
20. Cool bag and 2 scarves – RaRaRa @ BS8, Park Street
21. Lunch for 2 at Green's Dining Room, Zetland Road
22. 2 cinema tickets—Watershed
23. Free snowboard service, CD, bumper stickers—Ellis Brigham, Whiteladies Road
24. Pair of cufflinks – Frocks & Tails, Cotham Hill
25. £39 voucher – Frocks & Tails, Cotham Hill
26. Wii Table tennis game – Phone Shack, Cotham Hill
27. 2 inner tubes – Psyclewerx, Cotham Hill
28. 3 glass dishes – Inspiration Furnishing, Whiteladies Road
29. Plates – Inspiration Furnishings, Whiteladies Road

30. 1 hour massage from University of Bristol Massage Society

31. 2 ceramic serving platters—Kitchen, Whiteladies Road
32. DIY craftbox – Creativity
There will also be a raffle on the night with many goodies for the taking - see below! Furthermore there will be a variety of cakes for your delectation....don't say we don't spoil you!
Meal for 2 at Falafel King, Cotham Hill
5 Goody bags – Motel
£5 voucher – Katze, Gloucester Road
Panini and hot drink for 1 at Cafe A Roma, Cheltenham Road
Photo frames and silver monkey – Soma, Clifton
Wine – Grapes, Clifton
Spot the Dog toy - Blackwells
Bookworm bag and book– Blackwells
Banana fudge
Vauxhall Corsa teddies – Soukous, Cotham Hill
£5 Deli Delish voucher, Cotham Hill
Scented candles and Rubiks Cube – Evolution
Reusable shopping bag, wholemeal bread mix, carpet cleaner - Scoopaway, Gloucester Road
Ladies watch – Cotham Chemist
6 mugs – La Roca, Gloucester Road
T shirt – Avalaan, Gloucester Road
Photo Frame – Shared Earth, Broadmead
Here are some pictures from last year to whet your appetite....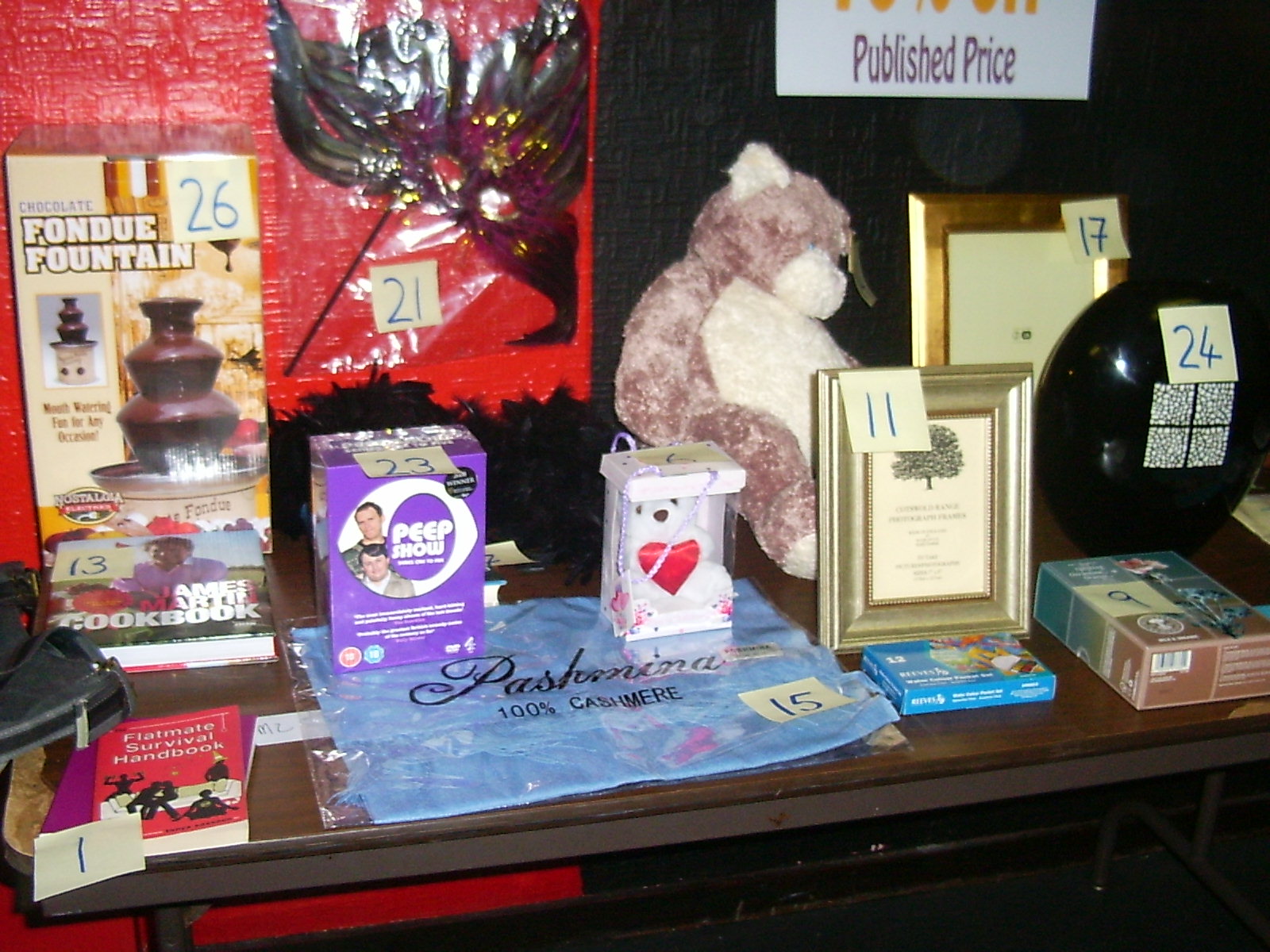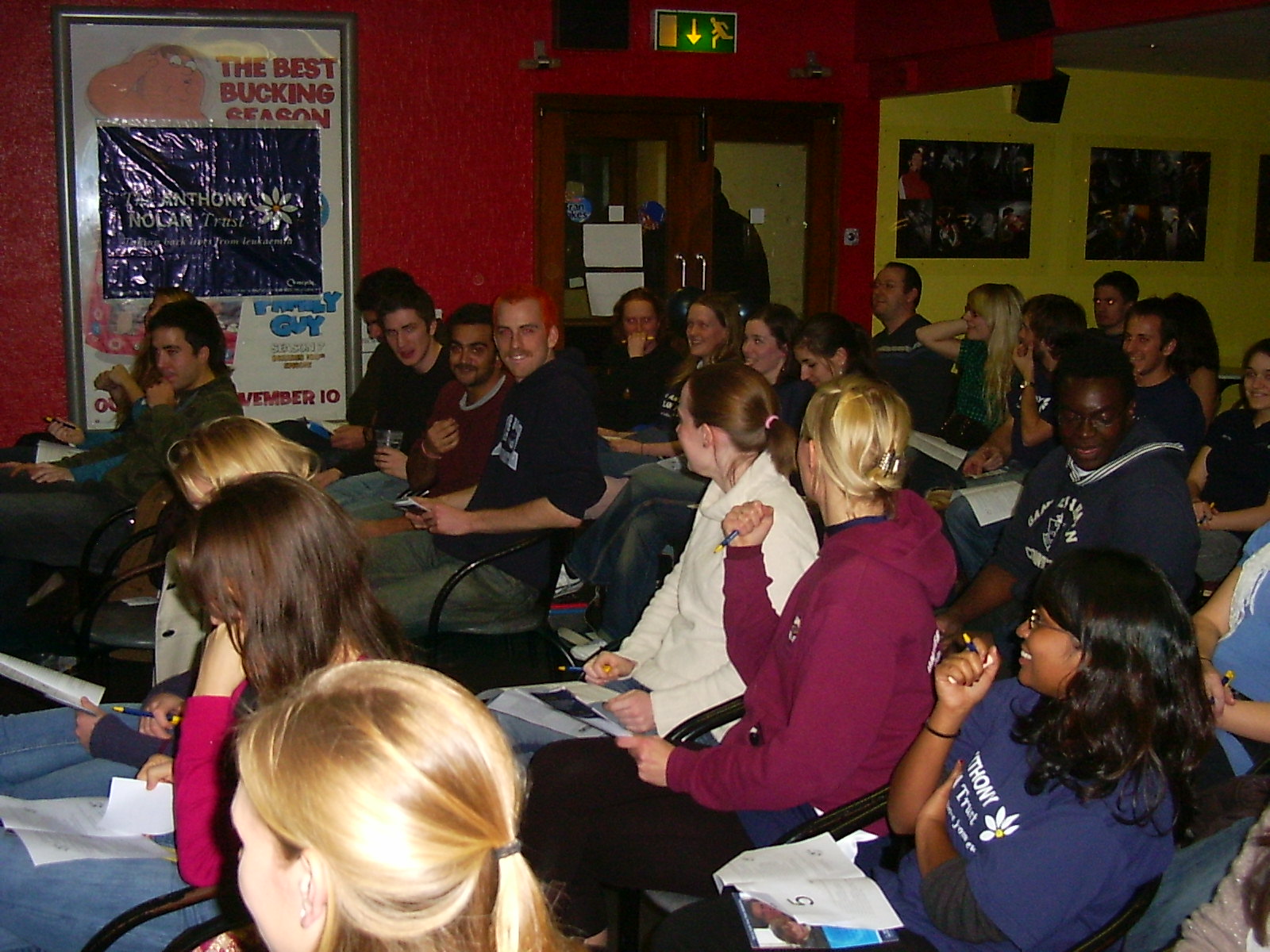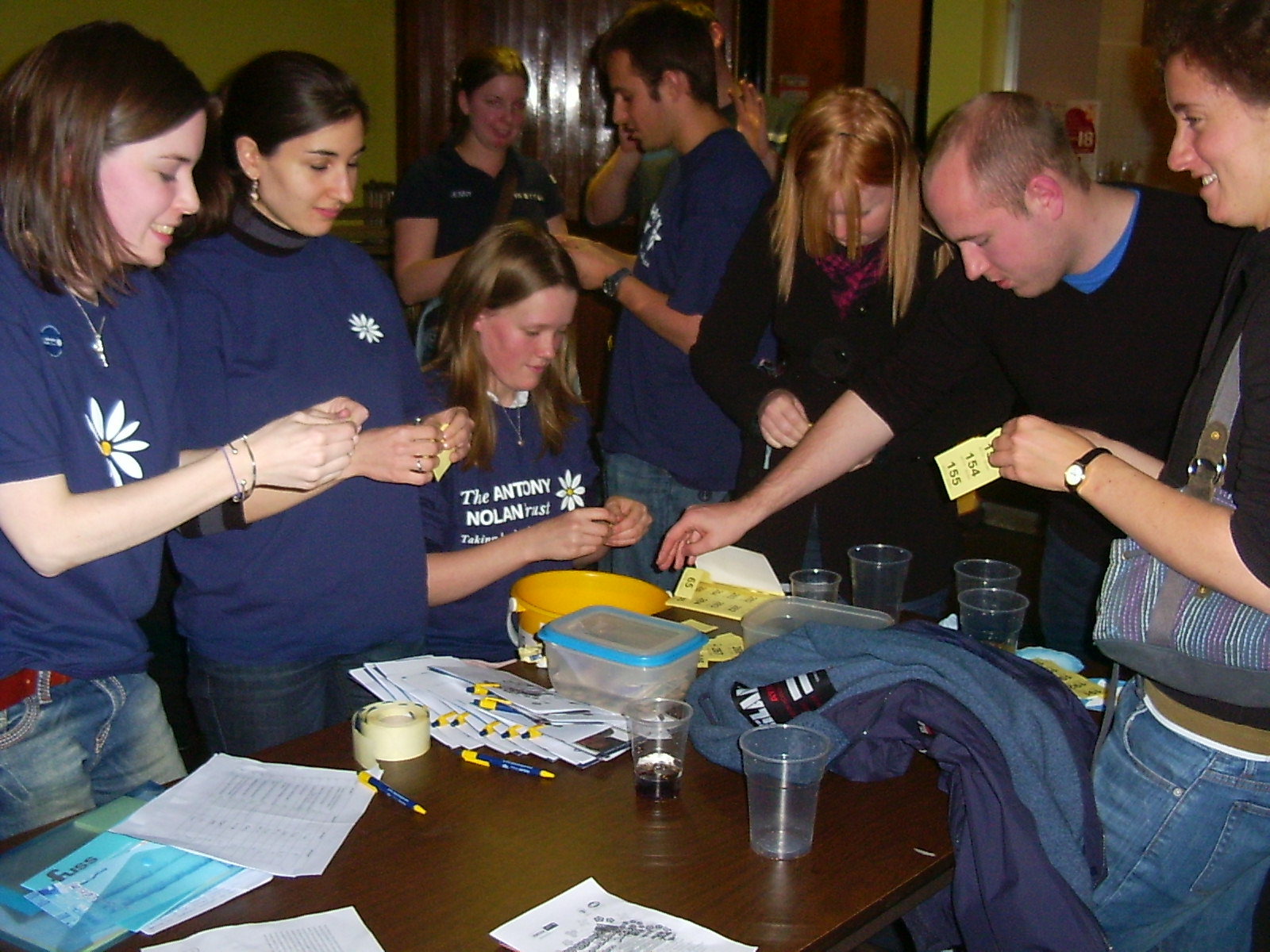 If you are interested in any of these marvellous lots but cannot make it to the auction, drop us an email and we can sort out an absent bid, where you can either put in a firm bid (eg I will pay £20 exactly) or a maximum bid (eg I will pay up to £20). These will be cleverly sorted out by our professional auctioneer for the night; Many Thanks to Peter Rixon from Dreweatts, Apsley Road Saleroom! Please note that if you win the lot with an absent bid, we will ask you to pay an extra pound for your bidding number. Please contact our fundraising officers and hostesses for the night Jessica, Nina and Sian to place absent bids.
Thanks, and look forward to seeing you there!