ref:2007/1 (2)
Émile Gallé and nature: types and influences in his glass
Valérie Thomas
Conservateur, Musée de l'Ecole de Nancy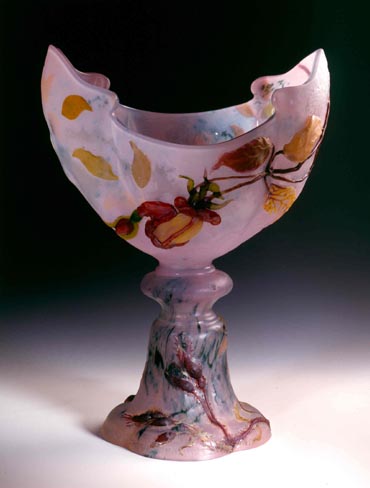 Abstract
This article explores the importance of the botanical world for Émile Gallé. This fascination, begun in childhood, grew throughout his life and led the artist to help found the Société Centrale d'horticulture de Nancy, of which he was the Secretary, and to establish links with eminent botanists and horticulturists. In his glass, Gallé delved into a repertoire of botanical forms to create new decorative motifs and new object shapes. Far from a servile imitation, Gallé used the natural world as a point of departure for formal and aesthetic experimentation, realised and translated into glass by subtle effects of the medium.



ref: 2007/1 (3)
Selling Art Nouveau in the Capital: The Nancy School in Paris
Robert Proctor
Glasgow School of Art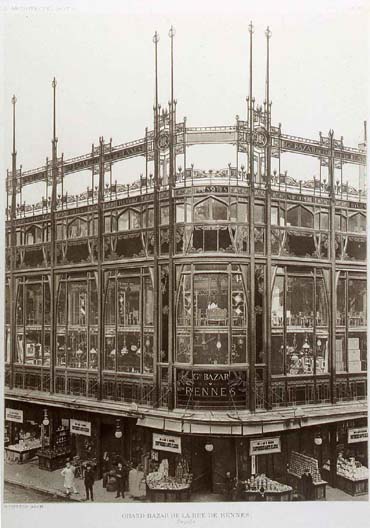 Abstract
The Art Nouveau products created by the Nancy School were conceived of in relation to their market, a market conveniently provided by the branches of the Magasins Réunis department store in the Lorrain region, operated by by Eugène Corbin. From 1894, the company opened three very different stores in Paris, designed and created by architects and craftsmen from Nancy with the intention of selling their work to a wider public. This article examines these buildings, as far as the limited sources and surviving structures allow, and by placing them within a wider context of architectural ideas in the capital, will suggest the extent of their influence upon contemporary architects. These buildings also allow us to see how the Nancy craftsmen placed their work in relation to its audience, both in the microcosm of the store building, and within the city: it is significant, for example, that Gallé refused to sell in these stores, and sent his work to a specialist shop near the Opéra to attract an international clientèle. That three stores were felt to be necessary was partly a consequence of their locations, each intended to appeal to a different market, a fact which may partly explain their distinctive designs. Finally, the paper will look briefly at related work in Paris by Henri Sauvage, particularly his workshops for Louis Majorelle, from the period of transition towards Art Deco, and perhaps in response to Corbin's fateful change of taste after the First World War.


ref: 2007/1 (4)
'Ma racine est au fond des bois': Gallé and Wood
Claire O'Mahony
Department of Continuing Education and Kellogg College, University of Oxford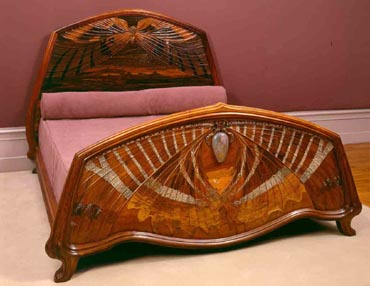 Abstract
Described by Roger Marx as 'homo-triplex,' Gallé experimented tirelessly with the expressive potential of ceramics, glass and wood. However, his furniture has received much less critical attention than his work in glass. By examining Gallé's unique engagement with the distinctive possibilities and effects of wood as a medium, one recognises more fully the degree to which natural forms provided him with dynamic structures and aesthetic complexity, as well as surface decorative effects. Gallé's nuanced writings on furniture design, his report to the jury of the 1889 Exposition Universelle 'Notice sur la production de menuiserie et ébénisterie sculptées et marquetées d'É Gallé' and a pair of articles first published in La Revue des Art Decoratifs in 1900 'Le Mobilier contemporain orné d'après la nature', offer helpful insights into the vexed issue of Gallé's relationship to mechanisation and artisanal ideals. Gallé's essays assist in recontextualising his furniture within the distinct attitudes and methods of the French tradition of ébenisterie, which was elucidated by the sociological studies of the trade undertaken by Pierre De Marroussem in the 1890s. Our understanding and involvement with Gallé's work in wood can be deepened, not only by more nuanced consideration of these more technical concerns, but also by devoting more attention to the political and poetic iconography of the pieces themselves, which reveals Gallé's deeply committed social activism, an issue which still remains at the periphery of much of the critical analysis of his oeuvre.


ref:2007/1 (5)
The 1909 Nancy International Exhibition: Showcase for a Vibrant Region and Swansong of the Ecole de Nancy
Béatrice Damamme-Gilbert
Department of French Studies, University of Birmingham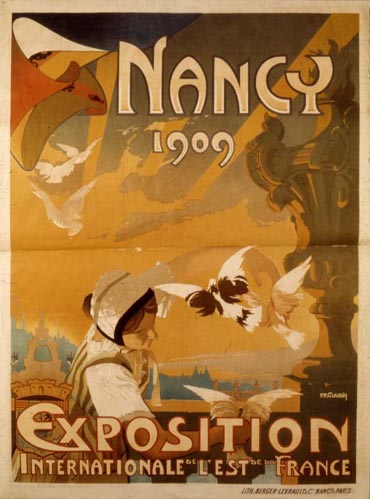 Abstract
In 1909, five years after Émile Gallé's death and five years before Europe embarked on its bloodiest war ever, the town of Nancy - then only forty kilometres away from the border with Germany - hosted what was to prove an amazingly successful international exhibition: L'Exposition Internationale de l'Est de la France. This was to demonstrate to the world that the region had recovered from the painful loss of Alsace and Eastern Lorraine in 1870 and could now take pride, through the flourishing of both Industry and Art, in its booming economy and sophisticated culture. This paper will examine how the exhibition came to be held and what were its objectives and main exhibits, commenting particularly on the style of the main pavilions, the débâcle surrounding the Ecole de Nancy pavilion and the relationship between art and industry. It will go on to highlight, through an examination of the ideological and allegorical discourse and the iconography surrounding the exhibition, the particular place occupied by Lorraine in the nation's self-representation.