The main thing to note about this experiment is that the contraction of the muscle is 'isometric' which means that contraction will occur without a change in length - the muscle does not shorten!

When the muscle is set at increasing lengths there will come a point where the muscle will resist being stretched out and a force will need to be applied to lengthen the muscle. In fact muscle is quite elastic.

So, with the muscle relaxed, there will be a force which we'll call the 'passive' force that is required to extend the muscle. If you look at figure 1 you can see how the passive

force increases with muscle length and please notice that passive force only becomes appreciable at lengths greater than the normal range.

As mentioned in the lectures, one cannot directly measure active force. The experimental setup shown in figure 2. can measure passive force and 'total' force. Active force can then be calculated as total - passive. The graph in figure 1 can be hard to understand and sometimes it is helpful to see the experimental records that underlie such a graph. This is shown in the composite figure below: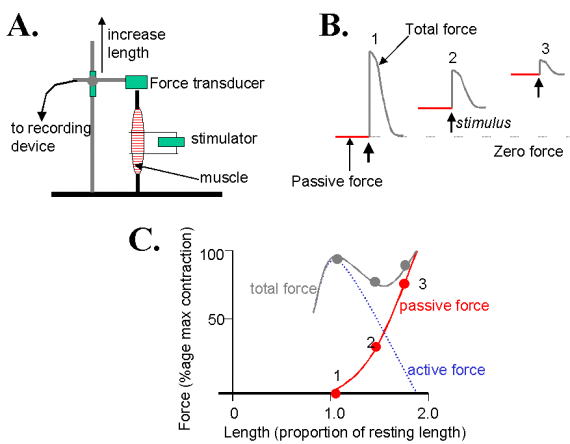 Figure 3 - Combined figure illustrating: A. the experimental setup, B. passive and total tension at 3 different muscle lengths & C. the length-tension data in graphical form.
Remember that the curve for active force is calculated from the curves for passive and total force!
To this point we've considered how [active ] tension varies with length where length is measured only in terms of the resting length of the muscle. Check out figure 1 if you've missed this point of principal. In the next section we will consider how tension varies as a function of the sarcomere length.