View all news
School for Policy Studies becomes core member of NIHR School for Social Care Research
30 January 2014
The School for Policy studies in the Faculty of Social Sciences and Law has become part of the intramural group of universities designated as School Members in the renewed composition of the NIHR School for Social Care Research (SSCR).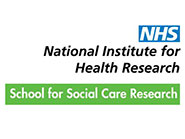 Following an open competition to secure the future of the NIHR SSCR, an independent expert panel selected five universities to be designated (or redesignated) as School Members.
The successful universities are Bristol, Kent, Manchester, York and the London School of Economics and Political Science (LSE).
The universities were selected for the strength of their track record in research, the quality of research outputs relevant to adult social care practice, their critical mass of social care researchers, the relevance of their work, and the strength of their submitted strategic plans.
The NIHR SSCR was formally established on 1 May 2009 to develop the evidence base for adult social care practice in England by commissioning and conducting world class research. The new School will build on the progress made in the initial funding term and enable the School to continue to fulfil its remit.
The funding for the current School comes to an end on 30 April 2014 and the new contracts are to start on 1 May 2014.
David Abbott, Research Director in the School for Policy Studies, said: 'This is a hugely exciting opportunity for colleagues in the School who are working at the forefront of research in adult social care. Our success in becoming part of the next phase of NIHR SSCR speaks to the quality and innovation of the research we do here at SPS. Given the pressing need to be engaged with the policy and research agenda in adult social care, we look forward to contributing to the ongoing success of NIHR SSCR.'