Physics Graduate School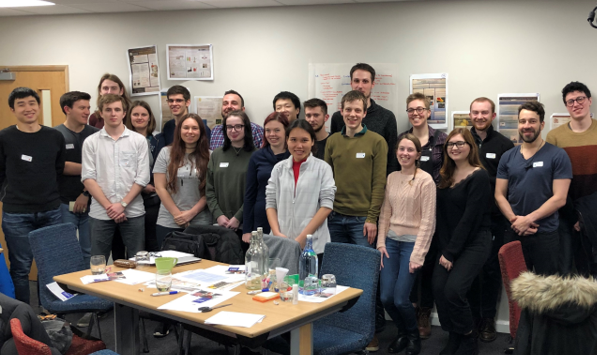 Terry McMaster Andrei Sarua Eszter Szatmari Anna Rocchi
Your research degree
A research degree is really an individual journey for each PGR student. This journey starts with an ambition to do ground-breaking research and pioneer new discoveries. It concludes with examination of the thesis and advancement to the next stage of your career. Whilst the key stages of any PGR journey are the same, there is a great diversity according to each unique individual experience:
There are 6 different vibrant research themes in Physics where PGR students work.

PGR degrees can be funded by a research council studentship; or industry; or a student's national scholarship body; or charitable donation from one of our alumni; or self-funded.
Flexibility is important. Degrees can be undertaken part-time; placements with companies to build career experience are popular and encouraged; and external research visits are common.
A student may additionally be part of a Centre for Doctoral Training (CDT) focussed on a specific research topic.
What does the Graduate School do?
We are here to support all PGR students throughout the research experience. We work to provide full-spectrum advice and assistance:
Run the Physics PGR Induction programme.
Work closely with PGR student reps through our student-staff meetings to design and deliver activities, and support student initiatives.
Provide personal advice at all the various stages and interfaces with the other parts of the University.
Support undergraduate teaching opportunities for PGRs, and help build this important professional practice.
Organise a rolling programme of PGR Training and Personal and Professional Development (PPD) activities
Find out more about the training opportunities we provide as part of your experience.
Student Representation
There is an energetic and dynamic range of Student Representative activity in the Graduate School - read more on our student experience page.
PGRs who teach
Each academic year, many of our PGRs take part in undergraduate teaching as a paid activity - find out more on our student experience page.
The Bristol Doctoral College grows, develops and supports our thriving community of postgraduate researchers across all research degree programmes at the University of Bristol - visit the Bristol Doctoral College website to find out more.
Our PGR students are engaged in exciting research programmes across the whole spectrum of Physics. The PGR student cohort is very diverse: across 221 students, more than 33 nationalities are represented. Here are some excerpts from our student profiles - visit our Student Experience page to read the full interviews and find out more:
Links to University Services