View all news
Nobel Prize winner installed as Chancellor of the University of Bristol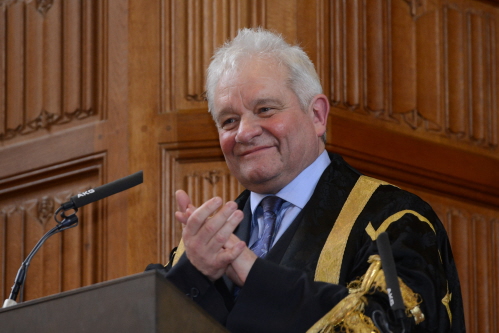 Press release issued: 22 March 2017
Sir Paul Nurse, a Nobel Prize-winning scientist and former President of the Royal Society, will today [22 March] be installed as Chancellor of the University of Bristol.
An official ceremony is being held in the Wills Memorial Building to mark the special occasion, bringing together traditions which date back over 100 years with the modern aspects of life at a global top 50 university.
Sir Paul, a leading geneticist and cell biologist whose work on the control of cell division underpins current research into treatments for cancer and other serious diseases, started his term as Chancellor in January. He took over from The Right Honourable the Baroness Hale of Richmond, who had held the role since 2004.
As Chancellor of the University of Bristol, Sir Paul will be the ceremonial head of the institution and play an important ambassadorial role, nationally and internationally.
He said: "It's a huge honour to be appointed Chancellor of the University of Bristol, which is one of the world's great universities. University had such a transformational role in my life and I know Bristol has the same impact on its excellent students.
"From the short time I've been Chancellor, I can see what an inspirational place it is - for its students, and also its staff who are carrying out fascinating research which is shaping our knowledge of the world.
"Universities have a huge role to play in providing knowledge and thought leadership about how we live well in an ever-changing world. I see Bristol at the forefront of that challenge, and I look forward to working with them as their ambitious plans for the future take shape."
Students, staff, alumni and local representatives have been invited to Sir Paul's installation ceremony in the Great Hall. It will be set against the ethereal backdrop of renowned artist Luke Jerram's Museum of the Moon – a giant replica of the moon suspended above the audience. A video of the ceremony is available online.
Student performers from Bristol Hornstars and the Poetry and Creative Writing Society will provide entertainment before Sir Paul is officially given the Chancellor's robes, which are made of gold and silk and are based on those designed for the University's first Chancellor, Henry Overton Wills III, in 1909.
Sir Paul will also be presented with three ceremonial items, including a key used by King George V to open the Wills Memorial Building in 1925 and other documents which symbolise the University's entitlement to award academic degrees.
Great George, Bristol's largest bell which is housed in the tower of the Wills Memorial Building, will be rung by a team of bell ringers for 10 minutes at 6.30pm. Such ringing is saved for special occasions such as the London 2012 Olympics, the Queen's Jubilee and the Royal Wedding in 2011.
Professor Hugh Brady, Vice-Chancellor and President of the University of Bristol, said: "In Sir Paul, we are fortunate to have a Chancellor who embodies perfectly the tenacity, rigour, curiosity and passion for knowledge that animate our plans for the University's future.
"He has an unrivalled standing in the scientific community, in this country and across the world. I have no doubt he will be a great inspiration for our staff and students. I'm delighted to officially welcome him to the University as we embark on an exciting new chapter in our history."
Previous Chancellors include Viscount Haldane, originator of the Haldane Principle, former Prime Minister Sir Winston Churchill, Sir Jeremy Morse, who provided the inspiration for Inspector Morse, and Nobel Prize-winning scientist Professor Dorothy Hodgkin.
You can follow the ceremony on social media using the #BristolChancellor hashtag.
Further information
Further information about Sir Paul Nurse
Sir Paul Nurse was born in Norwich and lived in London in his early years. He attended Harrow County Grammar School. He received his BSc in biology from the University of Birmingham (1970), and went on to receive a PhD from the University of East Anglia for research on Candida utilis (1973).
Over the last 30 years, Sir Paul has held many senior research leadership roles. He was Director General of the Imperial Cancer Research Fund and then CEO of Cancer Research UK.
His contributions to science were recognised with a knighthood in 1999. In addition, Sir Paul's endeavours relating to the discovery of molecules that regulate the cell cycle saw him jointly awarded the Nobel Prize for Physiology or Medicine in 2001.
He was appointed President of Rockefeller University in New York in 2003 and was elected as President of the Royal Society in 2010 for a five-year term.
Since 2011, Sir Paul has been the Director and Chief Executive of the Francis Crick Institute, based in London and one of the largest biomedical research institutes in the world, which opened in 2016.