Projects available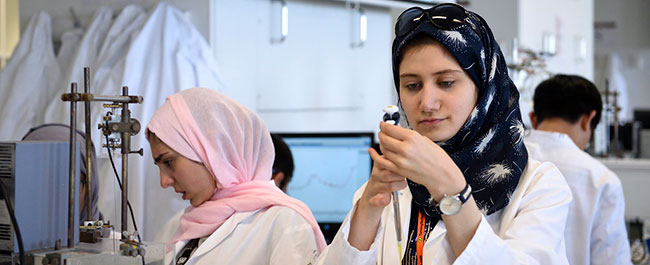 Choose a project that matches your interests and long-term goals. Then study and work alongside our faculty and clinical staff and gain transferable career and postgraduate-ready skills.
Due to concerns related to Covid-19, the University of Bristol has made the difficult decision to cancel our STEM Summer Research Projects 2020.
The health and safety of our summer school participants is always our first priority.
If you have any questions please contact global-summer@bristol.ac.uk.
Research projects offered by Bristol Dental School
For information about assessment and the course listing please see our unit catalogue.
The role of microbial 'cross-talk' on the emergence of antimicrobial resistance
Lead Supervisor: Dr Nihal Bandara
The National Institutes of Health (NIH) estimates that more than 80% of human infections are caused by structured microbial communities comprising various microbial species/kingdoms, known as polymicrobial biofilms. Among these, infections caused by fungal-bacterial polymicrobial biofilms are gaining significant attention due to their overwhelming impact on human health and the healthcare economy. Particularly, fungal-bacterial infections that occur on indwelling devices, within immunocompromised hosts, and in nosocomial settings are extremely resistant to routine antimicrobial therapy, leading to alarming rates of treatment failure. Fungal-bacterial polymicrobial infections often exhibit high mortality and morbidity due to their increased dissemination behaviour, ever-rising antimicrobial resistance profiles, and the lack of sensitive diagnostics.
The severity and outcome of fungal-bacterial infections can be predicted not only by the microbial composition of the biofilm but also by the specific interactions of the biofilm microbes. Quorum sensing (QS) is one chemical signal system used by microbes to 'talk' with each other. Recent studies suggest that some QS signals can modulate the antimicrobial sensitivity/resistance of neighbouring pathogens and are likely to be responsible for increasing incidence of treatment failures. Despite the fact that many QS interactions have been identified in polymicrobial communities, little is known regarding their role in antimicrobial therapy. The proposed project will therefore investigate the effect of bacterial QS signals on the antifungal sensitivity of common fungal pathogen Candida albicans, using a variety of microbiological and imaging approaches.
References:
Peleg, A.Y., D.A. Hogan, and E. Mylonakis, Medically important bacterial-fungal interactions. Nat Rev Microbiol, 2010. 8(5): p. 340-9.
Dhamgaye, S., Y. Qu, and A.Y. Peleg, Polymicrobial infections involving clinically relevant Gram-negative bacteria and fungi. Cell Microbiol, 2016. 18(12): p. 1716-1722.
Taff, H.T., et al., Mechanisms of Candida biofilm drug resistance. Future Microbiol, 2013. 8(10): p. 1325-37.
Deciphering the mechanisms of Streptococcus colonisation and pathogenesis
Lead supervisor: Dr Angela Nobbs
Streptococcus bacteria are opportunistic pathogens and ubiquitous colonisers of the human oral cavity and mucosae. They are often prominent members of the resident microbiota at these sites, reflecting their evolutionary adaptation to successful colonisation of their ecological niche. Despite facing often hostile environmental conditions, Streptococcus bacteria are able to associate with host tissues and with other microorganisms to form microbial communities (biofilms), the precise nature of which can have significant implications for both health and disease. Streptococcus bacteria are also able to survive upon entry into the blood stream and are associated with severe cardiovascular disease. Nonetheless, the underpinning mechanisms utilised by streptococci for community development and systemic disease are not fully understood.
This project forms part of an exciting programme of research within the Oral Microbiology group to decipher the molecular basis of Streptococcus colonisation and pathogenesis, utilising and range of genetic- and biochemical-based techniques. Tools that can be used include bacterial knockout mutants, heterologous expression strains and recombinant proteins, combined with biofilm and viability assays and imaging techniques such as fluorescence and confocal microscopy. Identification of the molecular determinants that influence Streptococcus colonisation and pathogenesis could lead to the development of novel strategies to combat streptococcal disease.
References:
J.A. Haworth, H.F. Jenkinson, H.J. Petersen, C.R. Back, J.L. Brittan, S.W. Kerrigan & A.H. Nobbs (2017). Concerted functions of Streptococcus gordonii surface proteins PadA and Hsa mediate activation of human platelets and interactions with extracellular matrix. Cell Microbiol 19: 19: e12667.
I.M. Cavalcanti, A.A. Del Bel Cury, H.F. Jenkinson & A.H. Nobbs (2017). Interactions between Streptococcus oralis, Actinomyces oris, and Candida albicans in the development of multispecies oral microbial biofilms on salivary pellicle. Mol Oral Microbiol 32: 60-73.
A.H. Nobbs & H.F. Jenkinson (2015). Interkingdom networking within the oral microbiome. Microbes Infect 17: 484-492.
A.H. Nobbs, H.F. Jenkinson & D.B. Everett (2015). Generic determinants of Streptococcus colonization and infection. Infect Genet Evol 33: 361-370.
Nanotopographical modulation of bacterial adhesion and biofilm formation
Lead supervisor: Professor Bo Su
Surface topography has been shown to alter bacterial adhesion and biofilm formation. It has become evident that surface hydrophobicity/hydrophilicity and effective contact area are the two main factors that are responsible for the different bacterial adhesive behaviour on surfaces. However, topographical effects on bacterial viability and biofilm formation have been less well studied, until recently. Recent studies 1, 2, 3 have shown that nano-patterned or nano-structured surfaces can induce the lysis of bacterial cells through unique physicomechanical mechanisms.
This project aligns with the Biomaterials Engineering Group programme of research to produce novel biomimetic antimicrobial surfaces based on nanotopography for medical devices and implants. Nature has provided some excellent examples of such surfaces with shark skin4 and insect wings5. Different nano-patterning techniques have been developed to generate anti-fouling and bactericidal surfaces on clinically relevant materials such as titanium metals and polymers. These include anodisation, controlled oxidation, hydrothermal synthesis and nanolithography. The correlation between nano-feature size and bactericidal performance will be established to rationally design new antimicrobial materials, independent of antibiotics, to provide an alternative approach to combat antimicrobial resistant (AMR) infections.
References:
P. M. Tsimbouri, et al. Scientific Reports, 6 (2016) 36857
Terje Sjöström, et al. Materials Letters 167 (2016) 22-26
Ting Diu, et al. Scientific Reports 4(2014) 7122
K. Chung et al., Biointerphase, 2(2007)89
E.P. Ivanova et al., Small, 8(2012)2089
Research projects offered by Bristol Medical School
For information about assessment and the course listing please see our unit catalogue.
The molecular mechanisms of neuromodulation by ultrasound
Lead Supervisor: Dr Daniel Whitcomb
Ultrasound – high-frequency soundwaves inaudible to humans – is a ubiquitously employed tool with diverse applications. Recent research in humans and animal models has surprisingly revealed that when ultrasound is directed transcranially, it can profoundly modulate brain activity (Folloni et al., 2019; Yoon et al., 2019; Legon et al., 2014). This intriguing discovery opens the possibility of using ultrasound to non-invasively regulate brain function, with many experimental and therapeutic applications. However, there is currently very limited understanding of the consequences of ultrasound at the molecular level of neuronal function.
This project sets out to map the consequences of ultrasound stimulation on rat cortical neurons and human pluripotent stem cell (hPSC)-derived cortical neurons in vitro. Using a range of protein identification and quantification approaches, we will examine what effects ultrasound has on key neuronal signalling molecules. Furthermore, we will investigate the effects of ultrasound at the genetic level, and define whether and how gene regulation may play an important role in neuromodulation. Findings from this study will address important questions regarding the potential utility of using ultrasound as a cutting-edge technique to regulate brain function.
References:
Folloni et al. (2019). Neuron, 101 :1-8.
Legon et al. (2014). Nature Neuroscience, 17:322-329.
Yoon et al. (2019). PLoS One, 14:e0224311.
Neuroinflammation and Parkinson's disease
Lead supervisor: Dr Liang-Fong Wong
The progressive loss of the neurons that lead to symptoms in Parkinson's is still poorly understood; with aging, genetics, environmental factors and inflammation considered to be key contributors. There is also emerging evidence that inflammatory processes in the brain (neuroinflammation) that occur after environmental insults are also central to other neurological diseases including Alzheimer's, amyotrophic lateral sclerosis and multiple sclerosis.
In this project, we will investigate how soluble factors released by the degenerating neurons can activate microglia, the immune surveillance cells of the brain. A major hallmark of the degenerating neurons is the abundant presence of a protein called a-synuclein, which triggers inflammation in the brain. The student will study if factors that can activate microglia are found in brain tissue from mouse models of Parkinson's, using quantitative PCR and protein detection techniques to determine the quantities and presence of these factors. The results will give us an insight into the interplay between a-synuclein and neuroinflammation and help increase our understanding of why neurons die in Parkinson's.
References:
Sanchez-Guajardo, V., Tentillier, N. & Romero-Ramos, M. The relation between alpha-synuclein and microglia in Parkinson's disease: Recent developments. Neuroscience 302, 47-58, doi:10.1016/j.neuroscience.2015.02.008 (2015).
Research projects offered by Aerospace Engineering
Cure and heat transfer in thermally- and electrically-enhanced composites
Lead Supervisor: Dr Dmitry Ivanov
The project will examine composite materials enhanced with micro-additives to improve their manufacturability. One of the fundamental challenges of composites manufacturing relates to poor thermal properties. It leads to significant thermal lag when heating and dangerous exothermic reaction when curing. The introduction of micro-reinforcements, enhancing through-thickness properties, has great potential to mitigate against these issues and reduce processing time. Elevated thermal conductivity accelerates heat transfer and improved electrical conductivity enables volumetric heating, e.g. by resistive or inductive methods. This study will address optimisation of manufacturing cycles for enhanced materials through cure, heat transfer, and inductive heating simulations and assess benefits of the material modification for various additives. Experimental validation using induction heating set-up may be included in the project. The project implementation requires basic programming skills (preferably MatLab) and understanding the principles of finite-element simulations (preferably Abaqus).
Mechanical assessment of locally-modified composites
Lead Supervisor: Dr Dmitry Ivanov
The project focuses on the feasibility of local modification of polymer composites to enhance properties in critical locations and tackle stress concentrations. One of the central challenges with composite performance is associated with its susceptibility to damage, especially in the presence of localised loads. Progress in composites manufacturing methods expanded the palette of methods available to enhance material properties and allow local introduction of additives and micro-reinforcements. This has a potential to improve the performance and reduce damage sensitivity in corners, open holes, bolted and adhesive joints, etc. The purpose of this project is to optimise materials by introducing gradients in properties to reduce damage susceptibility, toughness and strength. The optimisation will be realised through finite-element simulations with possibility for concise experimental validation. The project implementation requires basic knowledge of composites manufacturing processes and understanding the principles of finite-element simulations (preferably Abaqus).