PGR Community Fund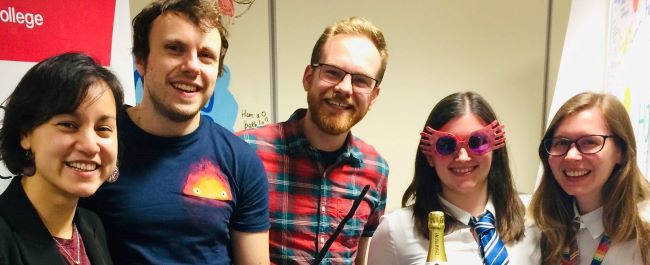 The PGR Community Fund supports the organisation of PGR community-building, wellbeing and social activities in the PGR Hub.
Applications for the PGR Community Fund 2019-20 are now open.
Do you have an idea for a non-research related event that could bring PGRs together in the PGR Hub? Make it happen with an award of up to £300 from our PGR Community Fund. This can be used to support social events and activities that are open to PGRs from across the University.
From movie nights to meditation sessions, evening quizzes to lunchtime craft workshops — what will you do to enhance the PGR experience outside of research and academia?

Who can apply?
We welcome applications from all registered and visiting postgraduate research students at the University of Bristol.

Is my idea eligible?
Any idea which brings together PGRs from across the University for a non-research related event or activity in the PGR Hub is eligible.
This could be a one-off activity (for example a craft workshop), or a series of events (e.g. a monthly book club). However, the total amount awarded will be a maximum of £300.
Here are just a few examples of possible activities — based on suggestions from PGRs, pilot activities that the BDC organised last year and some more generic ideas.
Film nights
Book clubs
Clothes swaps / repair cafes
Craft-based workshops / activities, eg. Knitting/crochet
Zine making
International pot luck lunch
Planting workshops / seed swapping
Language cafes
This is not an exhaustive list! We welcome any ideas for events that will broadly help mitigate stress and promote wellbeing amongst our PGR community.
You must also read and agree to the PGR Community Fund Terms & Conditions (PDF, 130kB) at the time of application.
What could the fund be used for?
Costs that could be covered include but are not limited to:
fee for an external facilitator / workshop leader
reasonable catering costs
advertising materials
decorations and other resources required
other reasonable costs associated with the delivery of the proposed idea.
Please note that the fund can be used to purchase a moderate amount of alcohol if is part of an evening event. However, we would request that you consider PGRs who don't drink alcohol and ensure that you provide soft drinks as well.
How do I apply?
You can expect to hear a decision within three weeks of your submission.
Events and activities supported by a PGR Community Fund award must be held in the PGR Hub. Find out more about this dedicated space for PGRs.
If you have an idea for a research-related or skills development event or activity, you can apply for an award from the PGR Development Fund. Find out more here.