Elizabeth Blackwell's legacy: exploring challenge and change
In 2021 we celebrate the bicentenary of the birth of Dr Elizabeth Blackwell. Our namesake was born in Bristol and went on to be the first ever woman on the British medical register. Join us this year in celebrating her life and story, while we explore the issues important to her, many of which are still relevant today.
On 3 February 2021, it will have been two hundred years since Elizabeth Blackwell was born. Britain's first female doctor, a single woman who lived and worked across two continents, and an early advocator of public health – in many ways, Blackwell was ahead of her time. She was passionate about a great many things, but mostly she was passionate about one thing: health.
What's changed?
A lot has changed in two hundred years. Indeed, a lot changed in 2020. This year, with Blackwell in mind, we're keen to explore the near and distant past, and look forwards into the future. We're interested to see what challenges Blackwell and the world faced, and what has changed. It would be nice to learn a little more of our local history too, exploring Bristol through Elizabeth's eyes.
Hello Bristol
At the Institute, we try to be democratic. That means we want our celebrations to be collaborative. We'd like to work with Bristol citizens, community groups, local partners and anyone who's interested. We have a couple of things up our sleeve, but mostly we'd like to have good conversation. We've highlighted the following themes that to us encompass the story of Blackwell – and we'd like to hear what you think of them.
Women in the workplace
Bristol past and present
Women in health
Community health
What's coming up
We're aiming to explore some of the themes above through partnerships with a local theatre company, community health organisations, and the Bristol Science Film Festival. More detail to follow on this. In the meantime find out about other events and activities you can get involved with.
BrisSciFilm 2021 – Elizabeth Blackwell Institute health film prize

There will be an additional Elizabeth Blackwell Institute prize awarded this year for a short film submitted to Bristol Science Film Festival with a health-related theme in celebration of the 200th anniversary of Elizabeth Blackwell's birth.

The Doctors Blackwell book tour

A major new biography, 'The Doctors Blackwell' by Janice P Nimura, celebrates two complicated pioneers who exploded the limits of possibility. As Elizabeth predicted, "a hundred years hence, women will not be what they are now. You can join one of the Blackwell "tour" events, from publication on 19 January through Elizabeth Blackwell's 200th birthday on February 3. All are virtual and east coast time unless otherwise specified.
For German speakers - hear about Elizabeth Blackwell on Deutschland Funk Radio
Join the conversation
2020 was certainly a year of challenge and change.
As things stand, we want to know what you think about the themes we mentioned above, and the challenges that relate to them. We'd like to hear from you about the changes that have been made, or still need to be made. How do things look today for women in the workplace? Why is the past important? What should the future look like? How do we keep a community healthy?
Join us online in 2021 to celebrate a pioneer in medicine, and to talk about what Blackwell, and Bristol, mean to us all.
#BlackwellBicentenary
#ChallengeandChange
Send your thoughts and suggestions to ebi-events@bristol.ac.uk
Watch our film to find out more about Elizabeth Blackwell's life...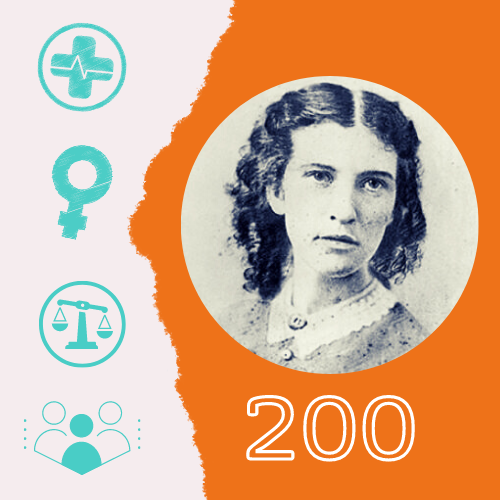 Discover why the Institute is named after Elizabeth Blackwell and find out about her fascinating life.