Teaching facilities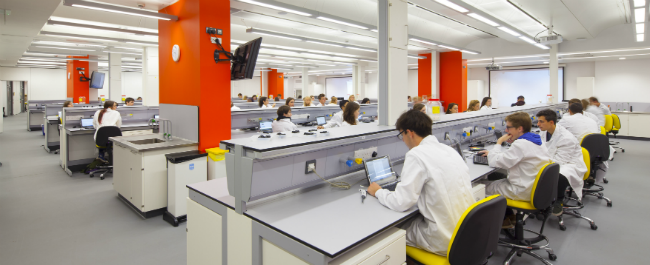 The state-of-the-art teaching laboratories have been designed to ensure a first rate educational experience in a safe and ergonomic workspace.
Cutting-edge equipment for experimental work includes:
Microscopy (compound, stereo, light and fluorescence, with imaging facilities).
Genetic analysis (PCR machines and gel electrophoresis/documentation systems).
Environmental monitoring (pH meters, oxygen meters, spectrophotometers).
The laboratories are fully furnished with notebook computers and new equipment for practical sessions focused on microscopy (high power compound types, low power stereo 'scopes, video imaging), genetic analysis (PCR machines, gel documentation systems), and environmental monitoring (pH meters, oxygen meters, spectrophotometers).
This laboratory infrastructure is complemented by new equipment for field courses.
This state-of-the-art equipment allows us to introduce novel approaches to teaching, including the development and implementation of digital laboratory manuals (DLMs) for teaching core practical skills in biological research.
Final year practical projects are enhanced through access to new research laboratories where undergraduates work alongside academic staff, research staff, and postgraduate students; while tutorials and small-group teaching sessions benefit from the meeting rooms and break-out spaces that are integral to the building's design.
Outreach workshops for British Schoolchildren
1. Mammalian Skulls:
Children of all ages are fascinated by wildlife, and being able to handle real skulls from some of the major predator groups (lions, bears etc) helps bring their existences to life. This session can be pitched at a simpler level for years 5/6/7 – or made to be more in depth for older children.
Predator v Prey: Explore real skulls from a variety of mammal groups and, using the knowledge gained, identify where each might sit in the food chain. Look at skull adaptations (sight, dentition, smell, hearing etc) to investigate how sense/adaptation has helped them fight for their survival.
Small mammal identification: Owl pellet dissection. Tease apart regurgitated owl pellets and, using simple keys, identify the range of small rodents that the local owl population feed upon.
2. Water Quality of our Rivers:
Water quality is constantly monitored across the country using standard methods. The macro-invertebrates found in streams have been found to be very good indicators of pollution - and therefore the overall quality.
In this session students will assess samples from rivers using methods for assigning a score using an index and simple keys.
Macro-invertebrates: Using microscopes, invertebrates can be grouped into families - and from this diversity, the quality of the river can be assessed.
Micro-organisms: Depending upon time and student ability we can move onto the higher powered microscopes and check out the microscopic organisms that live in our rivers but are unseen by the human eye.
3. Other Sessions:
As well as the two sessions listed above, which are delivered by our dedicated teaching technical team, there may be further opportunities available from other leaders depending on the level of funding for our outreach projects for that particular year. In the past we have been able to offer ecology field sampling and mollusc anatomy/dissection to name a couple.
We are also open to requests for anything we may be able to offer to support a particular topic you are covering. Please contact the Lab Manager for further details/discussion.
For a more specialised course aimed at sixth form students please check the 'Access to Bristol' courses offered by the University which now has a dedicated Biological Sciences stream.
Commercial Hire for Professional Courses
Does your company require a professional laboratory environment for your course, programme or event? We can provide a safe, clean, state of the art laboratory space for up to 140 delegates.
All initial enquiries should be made to the Lab Manager, in the first instance, for availability and pricing.
Film Location, Equipment Use/Hire for External Users, Advice to Other Professional Services
The School of Biological Sciences has always maintained close links with the BBC Natural History Unit and we receive enquiries from film makers to use the lab, specimen collection and equipment on a regular basis.
Advice/help of this nature is generally provided on a goodwill ad hoc basis, depending on the nature and complexity of the request. All initial enquires should be directed to the Lab Manager.