Liv Sidse Jansen Memorial Foundation
The Liv Sidse Jansen Memorial Foundation awards grants to support and promote environmental research at the University of Bristol.
The trust was established in memory of Liv Sidse Jansen, a former University of Bristol student. Liv Sidse Jansen graduated from Bristol with a BSc in Biology & Geography in 1997. She was a bright and strongly independent young woman, fiercely passionate about nature and the environment and determined to make a difference to the world around her.
Sadly, she died just six months after graduation in a tragic accident. Her parents, Steen and Hanna, set up the Liv Sidse Jansen Memorial Foundation in memory of their only daughter and her very happy years at Bristol. Both generously bequeathed their estates to the Foundation.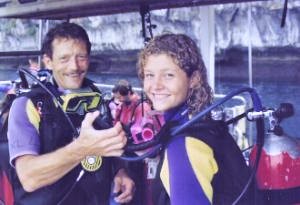 Steen Jansen and Liv Sidse Jansen.
Funding
The fund can offer grants (up to 1 year duration) in the following areas:
Pump priming novel cutting edge research projects.
Match funding to underpin research and studentship applications.
The collection of proof of principle studies to facilitate the award of further funding.
Research equipment relating to environmental research.
Meetings that facilitate future research collaborations with industry.
Promotion of environmental research in the form of workshops, lectures, educational outreach among other activities.
Most awards are between £1,000-10,000. Larger awards will be considered should proposals have strategic relevance and there is potential to add value, such as those matched by external funding, that pump prime large external awards, complete publications relevant to the REF, or contribute to longer-term goals of impact cases.
The principal investigator must be a salaried employee or postgraduate student working in Biological Sciences at the University of Bristol. To apply for funding please visit our funding page.