Richard Gregory Memorial Lecture 2018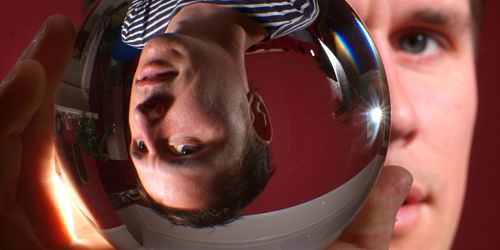 This year's Richard Gregory Memorial Lecture was given by artist Luke Jerram, creator of The Impossible Garden.
"Exploring the Edges of Perception"

Tuesday 13th November, 6pm
University of Bristol, Chemistry Lecture Theatre 1, Cantock's Close (acess from Woodland Road), Bristol BS8 1TS
Richard Gregory was a polymath, a great interdisciplinary thinker, a leading University of Bristol academic and an inspiration behind the formation of Bristol Vision Institute. This lecture is held in his memory.
Luke's first artwork "Retinal Memory Volume" was inspired by Richard Gregory's book "Eye and Brain". During the lecture, Luke talked through the principles and inspiration behind many of his artworks (including The Impossible Garden).
Biography
About Luke Jerram
Luke Jerram's multidisciplinary practice involves the creation of sculptures, installations and live arts projects. Living in Bristol but working internationally for 20 years, Jerram has created a number of extraordinary art projects which have excited and inspired people around the globe.
Luke is known in the city for the giant waterslide 'Park and Slide' he installed down Park Street in 2014 and the flotilla of fishing boats exhibited in Leigh Woods for the Bristol Green Capital 2015. The artwork 'Withdrawn', acted as an events space and installation artwork for the public to explore.
In 2017 his installation 'Play Me I'm Yours' saw 20 street pianos placed across the city for everyone to play. Currently Museum of the Moon is touring the world, where it was exhibited at the Commonwealth Games in Australia and touring India with the British Council.

www.lukejerram.com
Further information
Luke's collaboration with Bristol Vision Institute, The Impossible Garden, at the Botanic Garden was open from July to November 2018 and welcomed over 15,000 visitors.
The exhibition, a unique set of new experimental sculptures, was inspired by visual phenomena and its aim was to enhance our understanding of vision. As visitors explored the garden, they discovered 12 engaging art exhibits, designed to help promote understanding and stimulate debate about how visual impairments can affect our perception of the world around us.
The unique idea of The Impossible Garden came about after Luke's nine-month residency at the Bristol Eye Hospital and BVI, funded by the Leverhulme Trust. Luke applied for the residency together with Cathy Williams, a member of BVI and a Consultant in Paediatric Ophthalmology at Bristol Eye Hospital. Cathy is delighted how The Impossible Garden has begun conversations and is encouraging greater public understanding about the many processes involved in "seeing". Families tell her that lack of understanding is often a barrier to getting support for children with many kinds of visual impairment.
About Richard Gregory Memorial Lectures
Richard Gregory was a polymath, a great interdisciplinary thinker, a leading University of Bristol academic, and an inspiration behind the formation of Bristol Vision Institute. This lecture is held in his memory.
Richard's passions included visual perception and understanding visual illusions. He is well known for his explanation of the Café Wall Illusion. Richard's achievements were recently recognised by the City of Bristol through the award of a Blue Plaque which is mounted on the Workhouse Kitchen above the Cafe Wall Illusion in Bristol at the bottom of St Michaels Hill.
Over the years, we have had the pleasure of hosting speakers from Newcastle University, NASA Ames Research Centre, University of California, Silverback Films, Aardman Animations and the BBC Research and Development department.
Further information on previous Richard Gregory Memorial Lectures can be found HERE.
About BVI
Bristol Vision Institute (BVI) is a world leader in interdisciplinary vision research; it was formed in 2008 based on its strength across disciplines. It brings together some 170 associates from Engineering, Computer Science, Biological Sciences, Psychology, Ophthalmology, History of Art, Film and Television and Medicine with the aim of addressing grand challenges in vision research.
BVI's annual lectures and regular seminars showcase the interdisciplinary nature of its work to a wide audience to promote understanding of the visual mechanisms and processes evolved in humans and other animals, and their translation to innovations in technology, medicine and the creative arts.
2018/19 programme
To receive updates about seminars, lectures and events, join our mailing list. Email us on bvi-enquiries@bristol.ac.uk