View all news
Contemporary Nomads, Dr Henry Daniel, Visiting Professor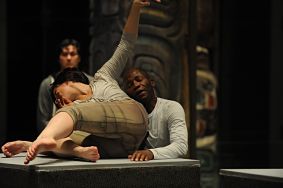 20 September 2016
Dr Henry Daniel is Professor of Dance and Performance Studies at Simon Fraser University in Vancouver, Canada. He is a scholar, performer, choreographer, and Artistic Director of Full Performing Bodies, a group he initially founded in the UK. Daniel's research concentrates on strengthening notions of Practice-as-Research, Arts-based Research, or Research/Creation in Canada. He began his career as an actor with Derek Walcott's Trinidad Theatre Workshop and was a founding member of Astor Johnson's Repertory Dance Theatre of Trinidad and Tobago. In the USA he was a member of the Alvin Ailey American Dance Centre Workshop, Pearl Primus African American Dance Company, the Bernhard Ballet, and soloist with the José Limón Dance Company of New York. In Germany he founded and directed Henry Daniel and Dancers while continuing to work as a member of TanzProject München, Tanztheater Freiburg, and Assistant Director, Choreographer, and Dancer for Tanztheater Münster with Birgitta Trommler.
Website: www.henrydaniel.ca/
Research Statement:
While in Bristol Professor Daniel will be conducting work on Contemporary Nomads, a new research project that draws links between the colonialist expansionist agenda began by Spain in the late 15th century - which involved a host of other nations in a unique transatlantic 'migratory movement' - and today's migrant/refugee crisis. The research claims that these two processes connect a history of population displacements driven by; religious tensions between Islam and Christianity; aided by those who determined how and which bodies were to be traded; resulting in large groups of people perishing at sea while being transported between territories; dying on treks across borders; and arriving in places of great uncertainty, tormented by feelings of alienation, and often rejected and abused on arrival at their new destinations. Contemporary Nomads is the natural sequel to Project Barca: Going West to find East/Going East to find West (2011-2014), Daniel's previous multi-year research project that examined some of the implications of Columbus' and others' transatlantic voyages on the descendants of those who made that trip, willingly or unwillingly, as well as on those who were native to those Americas.
Image from The Touched Project