View all news
David Turk nominated for STEM Inspiration award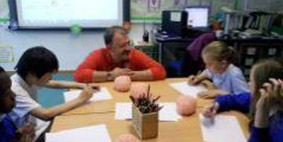 6 September 2017
The STEM Inspiration Awards recognise the UK's most dedicated and inspirational people motivating young people in science, technology, engineering and mathematics
Congratulations to Dr David Turk who has been nominated as an Outstanding STEM Ambassador in the 2017 STEM Inspiration awards.
Over 30,000 volunteers act as STEM Ambassadors from a wide range of science, technology, engineering and mathematics (STEM) related jobs and disciplines across the UK. The ambassadors share their time, enthusiasm and expertise to inspire young people to engage with STEM subjects and explore STEM-related careers. The Outstanding STEM Ambassador award is aimed at those with a long-standing body of engagement with the STEM Ambassadors programme and recognises their achievement over a prolonged period.
Winners in six award categories will be announced at the annual STEM Inspiration Awards ceremony, at the House of Lords, hosted by Lord Sainsbury of Turville on 4 October 2017 and the winners will be invited to CERN Switzerland in January 2018.
Further information
Find out more about David's award winning public engagement activities here.