View all news
BCFN students on their experience with Ottobock at the Winter Paralympics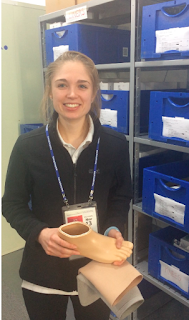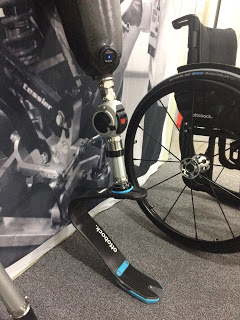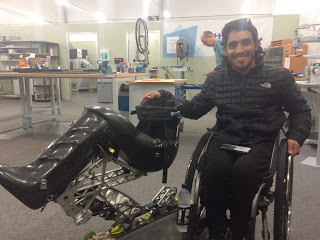 29 March 2018
Our BCFN PhD students Rafael Moreno Tortolero and Madeleine Nichols have just returned from an exciting couple of weeks in the Ottobock repairs workshop at the South Korea Winter Paralympic Games.
Rafa and Maddy have recently been interviewed for BBC Radio Bristol, and were featured alongside Ottobock technicians for a short BBC film that made it onto the homepage of their website. Maddy also managed to find some time to detail her experiences in her blog. Here's some of what she had to say about being behind the scenes at the Winter Paralympics:
After a somewhat hectic week of wrapping up research things and confirming final details (and about 24 hrs straight of travelling!) we were in PyeongChang and ready for our first day. We were spending a week at the Paralympic repairs workshop hosted by Otto Bock, world leading prosthetics and orthotics specialists. Partnered with the Paralympics for 30 years, this 'pit lane' is where athletes and the Paralympic community will take their gear if they have any problems.
Ahead of the games, Otto Bock shipped several tonnes of equipment which includes all the workshop machinery and tools plus an extensive selection of different replacement parts in a variety of sizes. They will repair anything that comes in to the best of their ability. At the games, you never know what repairs are going to come in and we saw everything from entirely new prostheses being made, to replacing wheelchair brakes. In some cases, products have completely snapped in half, in others some screws just need to be tightened. The team working on these repairs have a vast range of different expertise and have come from all over the world - there are around 25 workshop technicians from 10 different countries!
Over our visit we got to learn all about prostheses - starting with my being very nosy and rummaging around all the spare parts out the back of the workshop. There was so much stuff!! Hundreds of spare inner tubes, spare feet, prosthetic and cosmetic, socks, skin care ointments and sleeves (a soft material layer that goes between the stump and the hard prosthesis socket). We then saw some familiar letters enter the workshop… GB! And showcasing how the work of Otto Bock extends beyond that of the Paralympians and to the whole community, it was the Chair of the IPC requiring some work on his wheelchair. His footrest had got stuck! This was fixed pretty quickly and he managed to continue on his way to all his meetings and commitments with no disruption to his packed schedule.
Another repair that had come in was an old electronic arm prosthesis. The battery had become disconnected so it wasn't operating anymore. How this works completely fascinated me - when part of the arm is lost, there is still a nerve network in the remaining stump, so by detecting the nerve impulses the electronic hand will move! I just didn't realise this was how they worked - marvellous stuff! Shortly after that the Mexican sit-skier Arly Velasquez came into the workshop with his ski. He wanted to improve the seat. He was super friendly, and we got to chat to him for a while. It transpires that he had made his sit ski himself following Youtube videos! What an inspirational story. Not only is he competing in the Winter Paralympics, he took everything into his own hands to get there. He had such a wonderful attitude and was so down to earth and had a real zest for life. It was an honour to meet him.
All too soon it was our last day to observe in the workshop. It was a final chance to get some expert information from the team. As the competitions were winding down, there were fewer repairs coming in and more people coming in to have flag poles attached for the closing ceremony! For me, it was incredible to see the competitive side of things up close and to see how hard these athletes are working and have worked to get here. There's still a wonderful sense of community and they are so aware and value the support they receive so much. Amongst the staff in the repairs workshop, what struck me most was how passionate, dedicated and prepared they are to go the extra mile. It was a privilege to spend the week with them. If you ever have the chance, definitely go see some Paralympic action. It's a humbling, heart-warming and inspirational experience in every way.
Our thanks go out to Otto Bock for hosting our students and sharing their expertise with them. Read more about Rafa and Maddy's trip on Maddy's blog, and look out for her appearance on BBC Points West soon.