View all news
University of Bristol R and D Receives Boost From Local Firm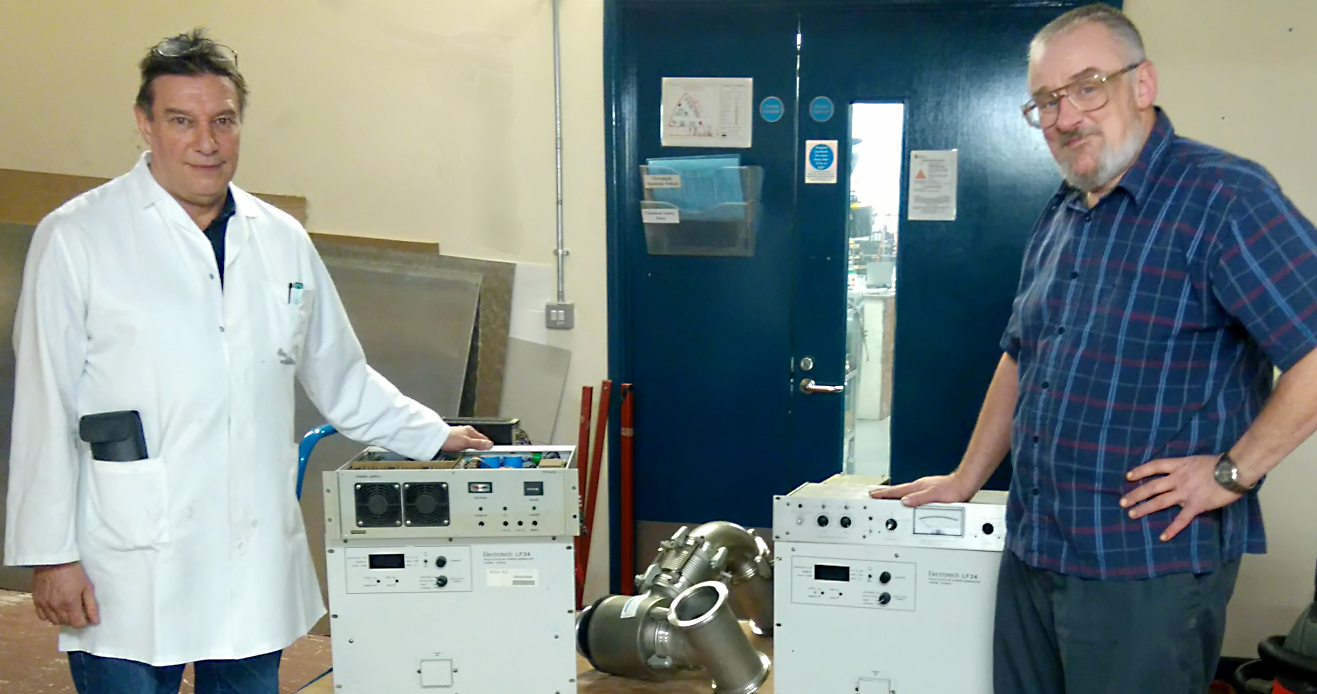 Press release issued: 28 February 2017
The great research and development work carried out by scientists at the University of Bristol's School of Physics has received a significant boost, thanks to local firm IES.
The engineering and logistic company has donated valuable and sought after equipment to the School, including vacuum parts, power supplies and RF generators. Universities are often limited by funds and resources, and the donation of these parts will provide great opportunity to the students at the University as they make their contribution to science as well as supporting industry through the supply of facilities, advice and data.
In 2015, IES worked with the University of Bristol to move the cleanroom equipment from the Engineering Department in the Queens Building to the current state of the art cleanroom facility in the HH Wills Physics Laboratory. The new multi-million pound facility is the jewel in the crown for the research groups at Bristol specialising in micro and nano fabrication for Quantum Photonics, Microfluidic Devices and many other advanced research applications. The University alsopurchased a Reactive Ion EtchSystem last year through IES's Omni Technologies Division for their new facility. IES' Omni Division provides a wide range of Semiconductor, MEMS, NEMS Equipment and Service Support for Corporate Research & Development, Institutes and Universities. This relationship meant that the University was an obvious recipient for the equipment, which was surplus after engineering projects carried out by IES.
IES Managing Director Niels Morch said, "IES could have sold the parts through its used parts Division, IES Semiconductor Parts, but we see much greater value in donating them to worthy causes. The University of Bristol will be able to use them to further their research without using more of their precious funds to do so."
Faculty Technician Dr Andrew Murray said, "IES has always been a good partner for our engineering needs in various projects. We appreciate and thank them for the nice gesture to donate these parts, some of which are quite rare and valuable, to the University of Bristol."
IES is a leading, worldwide provider of specialist engineering and logistics services. From single machine installations to entire factory relocation and from manufacturing to high-tech industry, IES provides an unrivalled reputation for quality of service and reliability. Based in Avonmouth it works with a wide range of clients from start-ups to blue chip multinationals, and celebrated its 25th anniversary in 2016.
Omni Technologies is a subsidiary of IES. For more information visit www.omni-technologies.co.uk, or to find out more about its used parts division visit www.iessemiconductorparts.com.