View all news
CQP PhD student receives IOP teaching scholarship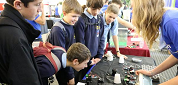 1 February 2016
Final year PhD student at the Centre for Quantum Photonics, Beccie Whittaker has been awarded an IOP teacher training scholarship which will allow her to begin her PGCE in September at King's College London to be a Physics teacher at secondary school level.
The highly competitive scholarship is only available to talented individuals who are entering physics teacher training schemes within the UK. The award includes £30,000 tax free funding to allow the individual to fund their full time studies as well as:
Free IOP membership during their teacher training year;
Early career mentoring from experienced physics teachers through the Stimulating Physics Network Programme;
Networking events and educational trips exclusively for scholars; and
Opportunities to contribute to physics education policy
Through out her PhD Beccie has demonstrated her enthusiasm for outreach and engagement activites by presenting research at Bristol Bright Night, helping to organise the CQP Summer School in 2015 and in her role as president of the Bristol Optical Student Society.
This is an excellent opportunity for Beccie and everyone at the Centre for Quantum Photonics wishes her the best of luck for the year ahead.