View all news
School of Physics Newsletter - April 2014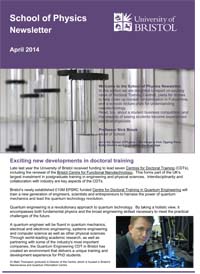 7 April 2014
School of Physics Newsletter, April 2014 - published today.
The latest edition of the
School of Physics newsletter
is published today.
We report on exciting news of collaborative Doctoral Training Centres, plans for drones to help in the ongoing clean up of nuclear contamination following the tsunami which hit Fukushima, and a schools lecture prize for understanding nanotechnology.
Read, too, about a student business competition, the rewards of seeing students become experienced practical physicists, and an update on the work of our visiting artist, Kathy Hinde.