View all news
Royal Society Wolfson Research Merit Award for Bristol professor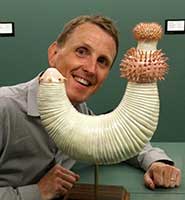 Press release issued: 8 February 2013
The Royal Society, the UK's national academy of science, has named Professor Philip Donoghue of the School of Earth Sciences as one of 25 new Royal Society Wolfson Research Merit Award holders.
Jointly funded by the Wolfson Foundation and the Department for Business, Innovation and Skills (BIS), the scheme aims to provide universities with additional support to enable them to attract science talent from overseas and retain respected UK scientists of outstanding achievement and potential.
Professor Donoghue receives the award for his work in the emerging field of molecular paleobiology.
For decades, palaeontology has been alone among the evolutionary disciplines in enquiring into the pattern and processes of large-scale evolutionary change. However, technological advances are now allowing molecular geneticists to uncover both the pattern and timescale of evolutionary history and, through comparison of the molecular basis of development in different organisms, determine how developmental evolution has affected the emergence of biodiversity.
Professor Donoghue sees this as an opportunity for palaeontologists to integrate molecular biology's dataset, techniques and experimental approach with the insight into events in Deep Time that palaeontology uniquely provides. Through this 'molecular palaeobiological' approach, scientists can obtain an holistic understanding of some of the major episodes in evolutionary history.
Professor Donoghue said: "It's great to receive this honour from the Royal Society and the Wolfson Foundation, recognising my peculiar approach of combining filthy fossils and molecular biology to revealing the secrets of our evolutionary history."