View all news
Achieving meaningful change: Q&A with LLM graduate Anamaria Fonsêca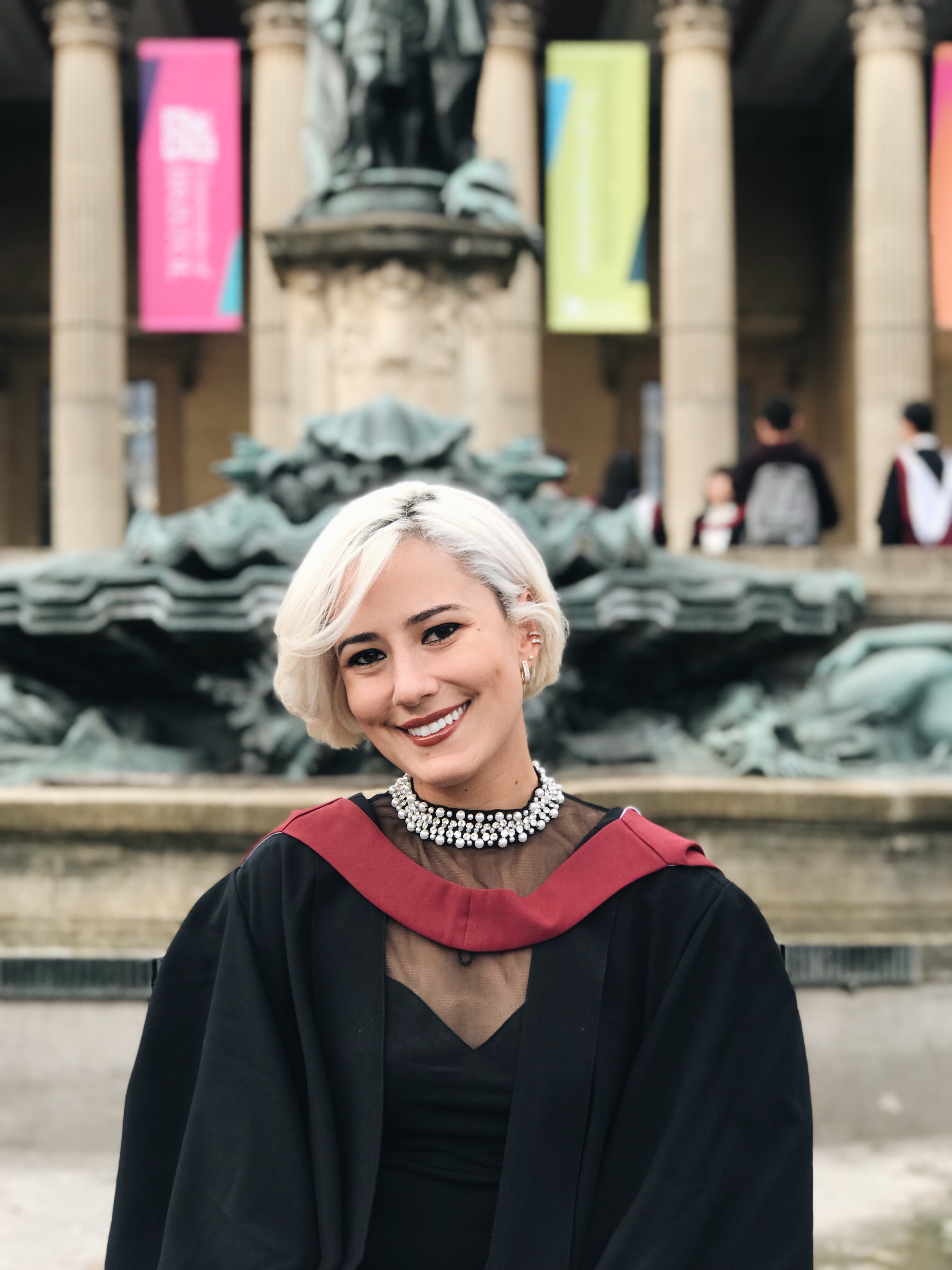 Press release issued: 22 March 2019
In this Q&A we caught up with LLM Graduate Anamaria Santos Fonsêca Sousa, currently working as a Visiting Lecturer at the University of The Gambia, in partnership with the Law School's Human Rights Implementation Centre. She talked to us about her journey to pursue her goal of becoming an international human rights lawyer and academic, her Law School experience and how it has shaped her career aspirations, and her advice for South American students looking to study at University of Bristol.
Why did you choose to study at Bristol?
Studying abroad was, I felt, a necessary step towards accomplishing my goal to work as an international human rights lawyer.
I grew up in a city in Northeast Brazil where opportunities were limited for this goal; I earned my undergraduate degree in my hometown, but as there were few courses available, I began traveling 8 hours a week to the state capital of Bahia to earn a specialisation in Public Law in pursuit of my professional goals. This led me to the University of Bristol, where I enrolled in the Human Rights LLM, a programme that provides specific expertise not easily accessible in my home country.
When I decided to study abroad I analysed higher education rankings throughout the world, the areas of expertise of each University and the focus of each programme. I ended up narrowing my choices down to ten universities around the world, and fortunately I was accepted to nine of them. I chose the University of Bristol because of its incomparable academic recognition, and because it demonstrated it could provide me with access to channels through which I can achieve meaningful change.
Additionally, as soon as I was accepted to the programme, one of my lecturers, Dr Diego Acosta Arcarazo, contacted me through email to introduce himself and explain the importance for him and for Bristol of empowering the latino community at the University, which made me feel really welcome and encouraged; his approach was definitely one of the deciding reasons for me to choose Bristol.
What did you find most inspiring during your time at the University of Bristol?
Studying in Bristol was life-changing, a watershed in my life and career. During my time there I was constantly inspired by my lecturers and my peers - seeing such diversity in an academic environment was exactly what I needed to have my horizons broadened. They not only helped me shape my career but also taught me so much about love, life, purpose, the world, culture and beauty.
Moreover, the extracurricular activities were of crucial importance to my experience. For instance, it was through the Human Rights Implementation Centre that I had the opportunity to work with Professor Rachel Murray. I already knew and admired her work, but to be a part of the Clinic brought me a whole new and even better perspective of the impact a Human Rights Law professional can have in the world.
My experience of legal research and practical engagement in the Human Rights Law Clinic was one of the decisive elements that reinforced my desire to pursue a career in academia and human rights law with international organizations.
What is the biggest challenge you have faced at Bristol?
I can cite several challenges I faced in Bristol, but none of them were big enough to make me second-guess my decision; though the experience would have been much smoother without these challenges, I also know that it's impossible for some of them not to exist; for instance, the fact that it was my first time living and studying in an English-speaking country.
What have you been working on since completing your LLM, and where do you see yourself in 5 years?
In five years, I hope to have finished my PhD and be working as a lecturer and as a human rights lawyer.
After completing the LLM in Human Rights Law in July 2018, I was offered a position in the University of Bristol's PhD in Law programme. Due to my working commitments as a Visiting Lecturer at the University of The Gambia, I deferred the offer for one year. I want to continue my academic career as a PhD researcher specialising in the rights of refugee women. My motivation to undertake this PhD is shaped by my passion for women's rights and migration law, my enthusiasm for research and analysis as well as my desire to pursue an academic career in human rights law.
It was thanks to a partnership between the University of The Gambia (UTG) and the University of Bristol, that I was given the unique opportunity to teach at UTG. In The Gambia I am responsible for teaching the International Human Rights Law unit to Law undergraduates. I am also the editor-in-chief of the annual Gambia Law Review.
Alongside my job in The Gambia, I work as a researcher for Bristol Women's Voice, a charitable organisation developed to tackle abuse and violence against women, for which I have published online reports, and have joined the Action4Justice team to develop a research paper on Arrest/Detention in The Gambia. In addition, I became a member of my alma mater's Human Rights Implementation Centre in Brazil as an international collaborator, for which I will be responsible for conducting online seminars on International Human Rights Law and for closely supervising students on their individual research tasks.
What advice would you give to South American students considering Bristol?
I would tell them to study and practise academic English as much as possible prior to their enrolment at university and to develop study methods to cope with a large number of independent study hours.
I would also tell them that studying in Bristol changed my whole life, career and perspective of the world, so I would advise them to accept the offer to study there, to be open-minded to the new academic environment, to enjoy the beautiful city and the opportunity of living in a such a diverse, vibrant and cultural place.
Lastly, I would tell them not to waste a single second of their time here so as to strategize their following steps – so study hard, make wise extracurricular choices and commit to them, take care of your mental health, make friends, enjoy the experience, take in every opportunity to learn inside and outside academia and study hard again.
Further information
Information for Brazilian Students: the Law School is experiencing a growing postgraduate community - with increasing numbers of Brazilians coming to Bristol to further their legal studies. Please see our Brazil page for more information for Brazilian applicants.
Language support for International students: the University offers pre-sessional language courses as well as academic language and literacy courses for law students.
LLM in Human Rights Law: Find out more about our postgraduate law programme specialising in Human Rights Law.
The Human Rights Implementation Centre is a leading institution for the implementation of human rights, that works in collaboration with a number of organisations and bodies, including those in the United Nations, the African Commission on Human and Peoples' Rights, the Council of Europe, governments and organisations at the national level.
Through its Human Rights Law Clinic the HRIC offers a unique opportunity for students to work with international, regional and national organisations engaged in the promotion and protection of human rights law.