View all news
CHLS Success at the BMA Book Awards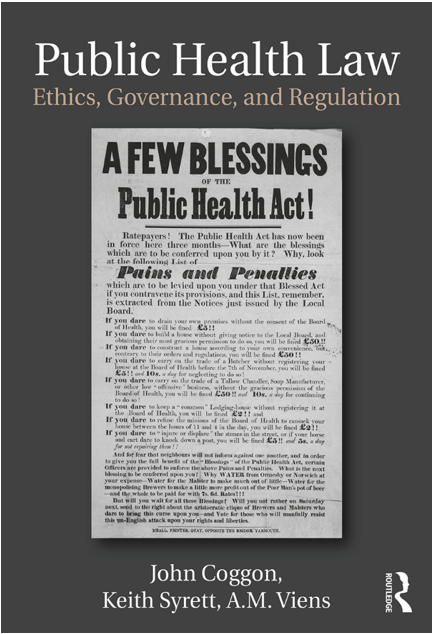 Press release issued: 11 September 2018
Professor John Coggon and Professor Keith Syrett, members of the Centre for Health, Law, and Society (CHLS), celebrated the start of September as their book 'Public Health Law—Ethics, Governance, and Regulation, co-authored with Dr A.M. Viens at the University of Southampton, was Highly Commended at the BMA Book Awards.
Public Health Law was submitted to the Basis of Medicine category at the British Medical Association's Book Awards, which are hosted annually "to recognise the most groundbreaking medical books being published". Their prestige is reflected in their popularity, with 677 resources submitted in total for the 2018 Awards.
Professor Syrett, who attended the ceremony with Dr Viens, said:
"It was a huge honour to receive a commendation in the prestigious annual awards made by the British Medical Association, and it is testament to the excellent reception which our book has received from the public health community, with which we have been delighted."
Further information
Professor John Coggon is Chair in Law at the University of Bristol and Director of the Centre for Health, Law and Society. His research focuses on the relationships between politics, morality, and health law and policy.
Keith Syrett is Professor of Health Law and Policy at the University of Bristol Law School. His research lies at the interface of law, political science and regulatory studies. Keith is globally recognised for his work on the rationing of healthcare resources and the law. He has written widely both on judical intervention in allocation decision making and on health technology assessment as an activity of the modern state.
The Centre for Health, Law, and Society (CHLS) promotes cross-disciplinary and cross-sector perspectives on the impacts of law and governance on physical, mental and social wellbeing. Based within the University of Bristol Law School, the CHLS comprises leading scholars whose work focuses on wide-ranging practical areas from within and far beyond health care systems, including clinical medicine, reproductive care, mental health, social care, and public and global health.
For more information about the Centre and its members, projects and opportunities please visit the CHLS website.