View all news
Dr Kaitlin Wade awarded Cancer Research UK 2017 Research Engagement Award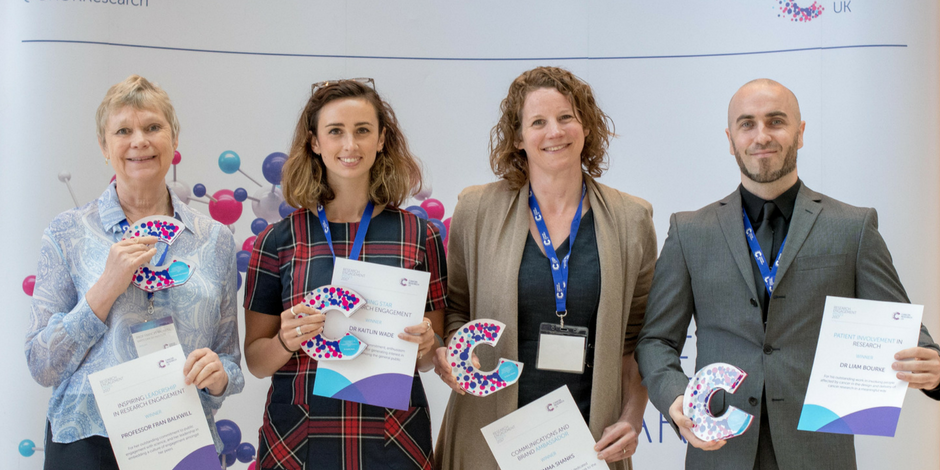 20 June 2017
Early Career researcher Dr. Kaitlin Wade from the MRC Integrative Epidemiology Unit at the University of Bristol has been awarded this year's CRUK Research Engagement Award in the category of Rising Star.
This prize was initiated by CRUK to award those who show extraordinary commitment in actively engaging and involving the public and patients with their science. They recognise individuals who spark enthusiasm and interest in cancer research among the general public.
Kaitlin was nominated through her work with the Integrative Cancer Epidemiology Programme (ICEP) that sits within the MRC IEU. Over the past two years within this programme she has gone to great efforts to establish multiple public engagement activities and frameworks and her relentless enthusiasm for engagement the public with MRC IEU research has been a key to many of our other academic getting involved.
On receiving the award Kaitlin says "I'm overwhelmed and very humbled for the recognition of my ongoing efforts to engage with the public about the work we conduct with the MRC IEU and ICEP.
Public engagement is such an important part of scientific research that often gets overlooked - it's quite easy to become introverted when running analyses, write papers and applying for specific grants but sometimes it means you lose focus of the 'big picture' – public engagement enables us to experience and communicate our ultimate goal of improving population health.
Personally, I am motivated by the opportunity to translate my work (and work of the wider scientific community) into something more tangible and accessible to a variety of audiences, whether through a public talk, schools outreach, open days, taking over cafés and shops or constructing an art installation at a music festival."
CRUK reported that competition this year was very strong, and they were delighted to award the Engagement Prizes to four outstanding winners with four inspiring runners up. We'd like to congratulate Kaitlin on her efforts and hope she continues to support others with their public engagement efforts in the future.