What to expect during your ceremony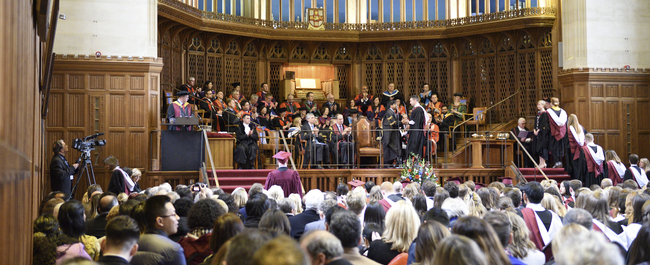 Find out what the graduation ceremony is like and what you will be expected to do.
Arriving at Wills Memorial building
No big bags or suitcases are allowed in the building. There are left-luggage facilities available in the city if you need them.

You should also be aware that there may be bag checks in place for any small bag you do take into the ceremony with you.
If you have a pushchair, please speak to an event steward on arrival for help.
Taking your seats
Both you and your guests should be seated in good time for the start of your ceremony. Check your timetable to find out when this time is.
You will be allocated a numbered seat, with your fellow students, or graduands.
Your guests will be seated separately from you, in the guest area. Guest seating is unreserved so is available on a first-come, first-served basis, however, they will need a guest ticket. Additional guests without a ticket can watch the live screening in the Richmond Building.
You and your guests will receive a programme of the ceremony.
Opening the ceremony
The ceremony starts with a staff procession. This is conducted into the Great Hall by the Bedells, the Ceremonial Officers, who are members of University staff.
The presiding officer will declare the ceremony open. The presiding officer will either be the Chancellor, Vice-Chancellor, Deputy Vice-Chancellor or one of the Pro Vice-Chancellors.
Calling you onto stage
The order
Graduands are called up onto stage in a particular order. Starting with undergraduate degrees, followed by Masters degrees, then Doctorates. Within this, you will be called up by subject.
Graduands who have obtained a first class honours or distinction classification are called up first, in alphabetical order by surname. Those with other classifications are then called up in alphabetical order (though no reference to individual classifications is made).
Those who have achieved Ordinary degrees are then called up.
The order is printed in the programme. You'll have a copy to look at during the ceremony.
Your name and degree classification
Your first name and surname will be announced. The name used will be the one that appears on your student record. You can select to use a preferred name as long as it is part of your official name recorded in StudentInfo.
If you think we may mispronounce your name, you can fill in a name pronunciation form to help guide us.
The name in our records will also appear in the programme and on your certificate.
If you have a question about your name, or would like to amend it, you will need to contact your faculty office.
Names cannot be amended after the award has been made.
You should be aware that your degree classification may be announced and printed in the programme.
When your name is called
At the appropriate time, a member of the ceremony staff will direct your row towards the stage.
When the person before you is called, you should move onto the stage. You will be presented to the presiding officer by your Dean of faculty, or their representative.
When your name is called, you should start walking across the stage.
Approach the presiding officer holding your hands out in front of you with palms together and he/ she will clasp your hands. At this moment your degree is conferred.
If you do not wish to clasp hands for religious or other reasons, please keep your hands by your side, approach the presiding officer and bow and they will do so in return.
You have now officially graduated, and are now a graduate. You should leave the stage by the opposite staircase.
You will be handed your certificate and members of staff will guide you back to your seat.
The back of your ticket will also include information about what you need to do.
After degrees are conferred
When the last new graduate returns, an honorary degree may be awarded to an individual who has made a significant contribution to society.
A speech presenting the honorary graduand, or guest speaker is given by the public orator. The presiding officer then confers the degree. The honorary graduate may then make a speech, offering inspirational words.
If there is not an honorary graduate in a ceremony, there will often be a guest speaker instead.
Closing the ceremony
The presiding officer gives a final speech and the ceremony officially concludes with the singing of the National Anthem, led by a student singer.
The Bedells will then lead out a procession, followed by you and your fellow new graduates.
Once the graduates have left the hall, your guests will be free to leave and meet back up with you outside the hall.
The area outside the hall and the building will be very busy, so we recommend agreeing on a meeting point a bit further away.
The rest of the day
You will need to drop off your gown, otherwise, the rest of the day is yours to enjoy. You can return your gown to the drop-off points at the Richmond Building, or the Wills Memorial Building until 7 pm.
You may have another event depending on your course, school, or faculty. You should check with your Faculty or School office to find out more about these events.
Guests without a ticket
If a friend, family member or other loved one wants to watch you graduate, but they do not have a ticket, there are options to still watch the ceremony.