Shakespeare in Performance Summer School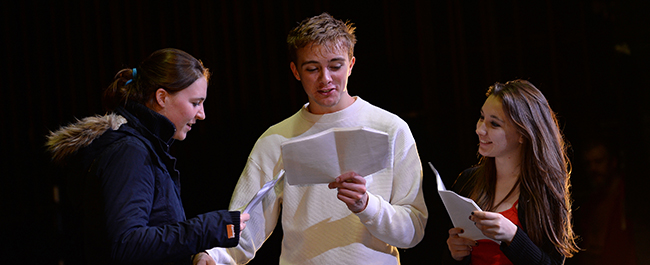 Are you interested in a summer school that combines critical theory, archival investigation, and an introduction to the UK's vibrant performing arts scene? Do you want to extend your learning beyond the classroom and into the theatre? If so, this three-week programme is for you.
Programme dates
25 July to 14 August 2021
Application deadline
Applications for 2021 are now closed.
Programme fee
£2,995
What's included?

We offer a £200 discount for mobility partner students (please contact us if you are unsure about your status) and for early-bird applicants who apply by 1 April 2021.
Credits
Upon successful completion of the programme students will receive 10 academic credits, suggested as equivalent to 5 ECTS or 3 US semester credits.
About this programme
Is it for me?
We welcome undergraduate students from any academic background who have an interest in theatre and Shakespeare. Our four-fold interactive approach combines workshops and panels with industry experts, seminars with leading academics, engagement with rare archival artefacts, and the chance to witness a range of performance events in Bristol and around the UK.
This is a summer school that emphasises learning through witnessing. You will learn to contextualise Bristol's vibrant performance scene in relation to national developments. You will learn to understand the context in which work is produced, explore ways you might communicate that understanding to a wider audience, and examine the aims and challenges of contemporary performance practice in a small-group, collaborative learning environment.
Academic programme
Over the course of the summer school you will:
Develop your own critical engagement with what you see
Be introduced to trends, themes and issues in contemporary UK theatre
Understand key methods and approaches to engaging with artistic and cultural activities
Gain critical understanding of the specifics of cultural development and performance in Bristol, in the context of national and international artistic developments
Learn the critical vocabularies and frameworks for appreciating performance practice and analysing a variety of artistic and cultural forms
Develop your communication skills, including scripting, editing and presenting, in order to articulate critically informed views of artistic and cultural activities to a wider audience
Produce a portfolio of work (this might include a podcast)
Advance your collaborative working and teamwork skills.
Entry requirements
You must meet all of the below requirements to be eligible for this summer school.
| | |
| --- | --- |
| Study level | Currently studying at undergraduate level |
| Academic requirements | GPA equivalent to 60-63% on the UK scale, C on the ECTS scale, or 3.0 on a 4.0 GPA scale |
| English language requirements | If English is not your first language, you need to meet our English language Profile B. You can see the tests and levels we accept by clicking the 'English Language Proficiency Tests' tab. If you took the CET-4 or CET-6 tests please contact us directly in order to find out what scores we will accept. |
| Age | 18 or over |
If you have any questions about your eligibility please contact us at global-summer@bristol.ac.uk.
Make your application
You will need to complete our short application form and submit the following:
A current university transcript (in English)
A short (maximum 250 words) statement explaining why you are applying to this summer school
Evidence of your English language skills if relevant.
If you have any questions about this process you can contact us at global-summer@bristol.ac.uk.

Applications for 2021 are now closed.
We provide accommodation, meals, transfers and a programme of exciting social activities. Find out more about what your time in Bristol will be like.
Coronavirus and your application
The University of Bristol plans to deliver Bristol-based summer schools in 2021. However, the University continues the evolving covid-19 pandemic both at home and abroad. All applicants will be updated with a decision as to whether or not the University can move forward with in-Bristol programmes in early May.
Please be advised that the University of Bristol will adhere to UK government policy regarding travel restrictions and health and safety on campus. You can find out more about our current campus policies here. You can find out more about UK government travel advice and regulations here.
We strongly suggest that all applicants read the Terms and Conditions - Global Summer Schools 2021 (PDF, 130kB) document prior to accepting any offers they may receive.