Destination Vet Summer School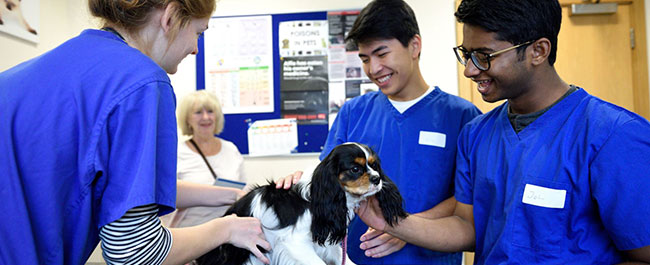 Do you want to be a vet? Join our unique learning and work experience programme to gain hands-on skills, explore Bristol and the UK with our social programme, and meet new friends from around the world.
Programme dates
Sunday 24 July to Saturday 6 August 2022
Application deadline
1 March 2022
Admissions decisions are made on a rolling basis and may close early if all spaces are filled.
Application link
Apply now
Programme fee
£2,495
What's included?
Benefits
Participation on Destination Vet satisfies the work experience requirement for future undergraduate degree applications to the University of Bristol's BVSc Veterinary Science programme.
About this programme
Is it for me?
Destination Vet is a 2-week residential Summer School experience, showcasing what it is like to study Veterinary Science at the University of Bristol. Academic sessions are mostly delivered on our Vet School's Langford campus, with additional teaching on our main Bristol campus, plus visits to supplementary locations for further animal-handling and learning experiences.
Destination Vet offers many different learning experiences with working vet practitioners, leading staff members, and specialist experts.
Academic sessions
Small animal practice
This includes work in referral, diagnostic laboratories and operation theatres.
Practice-based experience and observation sessions
Gain practical experience at a dairy unit and sheep farm with practising vets, and participate in practice-based observation sessions in our equine referral centre.
Sessions with specialist surgeons
Participate in consultation sessions to assess and treat animals.
Exotic species session
Learn to compare different species and identify internal structures during sessions on our main campus.
Academic programme
Over the course of the summer school you will will learn transferrable skills such as:
Clinical skills and techniques
Understand biosecurity, safe working practice, clinical examination and practical techniques.
Communication skills
Learn how to communicate with animal owners and find out about the internal referral process.
Group work and presentation techniques
Work with other students to respond to a case study and present your findings to faculty members.
Problem-solving skills
Gain advice from our working specialist practitioners about how to identify and respond to in-field risks, and learn how to implement best practice.
Entry requirements
You must meet all of the below requirements to be eligible for this summer school.
Study level
Pre-undergraduate: currently in high school / 16-18 further education
Subject requirements

Studying Chemistry and at least one of either Biology, Physics or Maths

Academic requirements
Applicants should be on track to meet typical entry requirements for BVSc Veterinary Science
English language requirements
If English is not your first language, you need to meet (or be due to meet by the time you apply to University) our English language Profile B. You can see the tests and levels we accept by clicking the 'English Language Proficiency Tests' tab. If you took the CET-4 or CET-6 tests please contact us directly in order to find out what scores we will accept.
Age
16 or over at the time of the summer school.
This summer school is for high school students who are not yet studying at university level.
Make your application
To apply, you will need to complete our short application form and submit the following:
Evidence of your current qualifications being studied - for example, recent examination results and/or a copy of your timetable
A short (maximum 250 words) statement explaining why you are applying to this summer school
Evidence of your English language skills (if relevant).
If you have any questions about this process you can contact us at global-summer@bristol.ac.uk.
We provide accommodation, meals, transfers and a programme of exciting social activities. Find out more about what your time in Bristol will be like.
Coronavirus and your application
The University of Bristol plans to deliver Bristol-based summer schools in 2022. However, the University continues the evolving COVID-19 pandemic both at home and abroad. All applicants will be updated with a decision as to whether or not the University can move forward with in-Bristol programmes in early May.
Please be advised that the University of Bristol will adhere to UK government policy regarding travel restrictions and health and safety on campus. You can find out more about our current campus policies here. You can find out more about UK government travel advice and regulations here.
We strongly suggest that all applicants read the Terms and Conditions - Global Summer Schools 2021 (PDF, 130kB) document prior to accepting any offers they may receive.