Biomedical Sciences Lab Summer School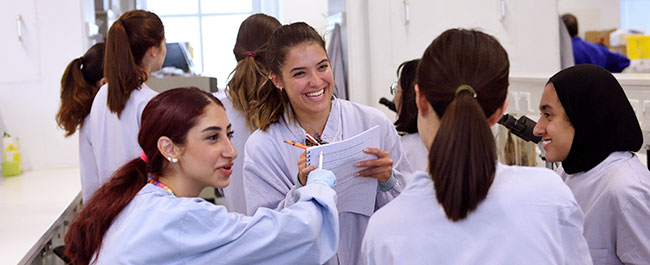 Are you interested in a range of life sciences and health sciences subjects? Do you want to undertake a diverse mix of lab-based experiments and develop your clinical research skills? If so, this three-week summer school is for you.
UPDATE: The University of Bristol has made the difficult decision to postpone the Biomedical Sciences summer school until 2022. If you registered your interest in this summer school you will be contacted in due course. We appreciate that this decision will cause some disappointment, but we must prioritise the safety and wellbeing of our community.
Please contact us at global-summer@bristol.ac.uk if you have any questions.
Programme dates
25 July to 14 August 2021
Application deadline
1 April 2021
Admissions decisions are made on a rolling basis and may close early if all spaces are filled.
Programme fee
£2,995
What's included?

We offer a £200 discount for mobility partner students (please contact us if you are unsure about your status) and for early-bird applicants who apply by 1 April 2021.
Credits
Upon successful completion of the programme students will receive 10 academic credits, suggested as equivalent to 5 ECTS or 3 US semester credits.
About this programme
Is it for me?
Recommended by 100% of our recent cohort, this summer school is designed for undergraduate students studying medicine, pre-med, health sciences, biomedical sciences, biological sciences or aligned subjects.

This summer school focuses on three main academic themes: biomedical sciences techniques, exploring the systems of the body, and clinical and scientific inquiry. This is a hands-on summer school - you will complete supervised experiments and research in small groups in one of the UK's leading research institutions.
Academic programme
Over three weeks you will complete lab sessions focused on:
Biochemistry
DNA workshop
Histology
Microbiology
Neuroscience
Pharmacology
Physiology
Developing your communication and teamwork skills
Learning advanced techniques in scientific presentation and tissue preparation
Undertaking project design and problem solving
Learning about human physiological recordings.
Please note that some of these sessions include the use of animal tissue.
The summer school also includes research-based lectures from our expert faculty members and networking sessions with faculty members, postgraduate students, and technicians.
Entry requirements
You must meet all of the below requirements to be eligible for this summer school.
| | |
| --- | --- |
| Study level | Currently studying at undergraduate level |
| Subject requirements | Studying medicine, pre-med, health sciences, biomedical sciences, biological sciences or aligned subjects |
| Academic requirements | GPA equivalent to 60-63% on the UK scale, C on the ECTS scale, or 3.0 on a 4.0 GPA scale |
| English language requirements | If English is not your first language, you need to meet our English language Profile E. You can see the tests and levels we accept by clicking the 'English Language Proficiency Tests' tab. If you took the CET-4 or CET-6 tests please contact us directly in order to find out what scores we will accept. |
| Age | 18 or over |
Applications for 2021 are now closed.
We provide accommodation, meals, transfers and a programme of exciting social activities. Find out more about what your time in Bristol will be like.
Coronavirus and your application
The University of Bristol plans to deliver Bristol-based summer schools in 2021. However, the University continues the evolving covid-19 pandemic both at home and abroad. All applicants will be updated with a decision as to whether or not the University can move forward with in-Bristol programmes in early May.
Please be advised that the University of Bristol will adhere to UK government policy regarding travel restrictions and health and safety on campus. You can find out more about our current campus policies here. You can find out more about UK government travel advice and regulations here.
We strongly suggest that all applicants read the Terms and Conditions - Global Summer Schools 2021 (PDF, 130kB) document prior to accepting any offers they may receive.