Doctor of Education (EdD) in Bristol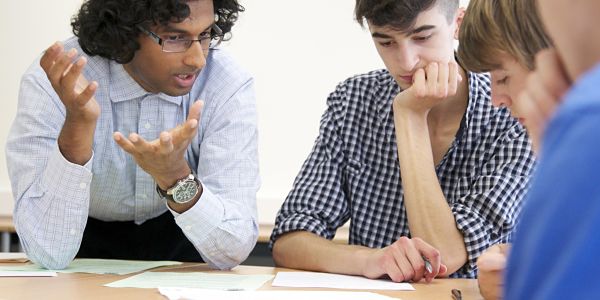 The Doctorate in Education (EdD) stimulates and transforms students' professional thinking and practice, whilst developing a deep understanding of how cutting edge academic research can tackle real-life professional issues.
Over 200 EdD students work in Bristol or Hong Kong as part of the School of Education.
What can the EdD programme offer me?
Recognition of prior learning Masters qualification or equivalent;
Support in development for a doctoral research proposal as part of the taught units: general ideas accepted at application stage;
Rigorous research methods training units (60 D level credits) and opportunities to audit taught units held jointly with PhD students;
Further taught units on substantive education topics relevant to the core EdD themes of learning, leadership and policy (80 D level credits)
High quality and regular supervision from academic experts in their areas to support a 45,000-word dissertation (300 D level credits),
Membership of the South West Doctoral Training Partnership and Bristol Doctoral College;
Opportunities to contribute to leadership and governance as a student representative on School and Faculty committees or through convening the School of Education annual doctoral conference;
Opportunities to contribute to the organisation of research activities, doctoral support groups, and to join research centres and networks;
To be an active member of a research centre, networks, and/or Faculty-wide research group, through which you can share research ideas with staff and students and will connect to national and international networks;
The chance to apply for short term research assistant and teaching assistant roles (after starting the dissertation phase);
Professional development and short training courses through the Bristol Doctoral College and the CREATE (Cultivating Research and Teaching Excellence) staff development scheme;
Access to a dedicated School library on-site, Faculty and other University libraries;
Use of well-equipped, flexible study spaces within the School of Education and wider University; and
Your own personal profile page on the University of Bristol website.
Research Supervision
We offer high-quality supervision by internationally recognised scholars, across a range of research areas including educational psychology, education policy, higher education, teaching and learning in schools, professional development, learning in the city, non-formal education, lifelong learning, and assessment. Please refer to our research centres and networks for further information.
Our academic staff include experienced researchers with methodological expertise in advanced quantitative methods, a range of qualitative research methods, and mixed methods.
In 2016/17 we moved to a position of a comparable fee profile to the PhD programme. Students studying on a part-time basis, will be charged on a pro-rata basis of the appropriate full-time fee over six years.
Request more information
Ask us a question, sign up for our updates or request a prospectus.
Contact us
Student Services Office
Phone: +44 (0) 117 331 4234
Email: ed-edd-hk@bristol.ac.uk
School of Education
University of Bristol
35 Berkeley Square
Bristol, BS8 1JA