From drug delivery to the lungs to the transmission of disease, climate change to combustion science, new routes to materials to consumer and agricultural products, an understanding of aerosol science is crucial.
PhD Studentships
Studentships are still available for a September 2019 start. Please contact aerosol-science@bristol.ac.uk for more information.
The programme
Aerosol science is multidisciplinary, bringing together researchers across the physical, environmental and health sciences, and engineering. Learn to research in diverse teams, gain an advanced understanding of the core science, work with industrial and public sector partners, and undertake groundbreaking research.
For more information, including programme structure and entry requirements, please see programme details.
Why study at the Centre for Aerosol Science?
An aerosol consists of solid particles or liquid droplets dispersed in a gas phase, with sizes spanning from clusters of molecules (nanometres) to rain droplets (millimetres). Not only will studying at the EPSRC Centre for Doctoral Training in Aerosol Science (CAS) for a PhD give you an opportunity to undertake leading research in aerosols, it will equip you with a unique mix of skills and experiences for your future career, including:
Comprehensive training in the core physical science of aerosols during the first 7 months of your PhD, hosted at the University of Bristol.
Engagement with a complementary area of aerosol science to your main PhD project during a thematic research broadening sabbatical.
Mentoring from an industrial supervisor with an opportunity to work with the industrial partner during a placement in year 2 or 3.
Experience of working in multidisciplinary teams, ensuring you have the agility to work at the interfaces of the traditional disciplines.
Opportunities to build a network for the future with a community across 7 universities and 50 industry and public sector partners.
CAS brings together leading academic teams across a range of schools and faculties at 7 UK universities with industrial and public-sector partners in the areas of healthcare, material science, energy and transport, environment, consumer products and agrochemicals.
Projects provide the opportunity to combine the very latest techniques, with new approaches.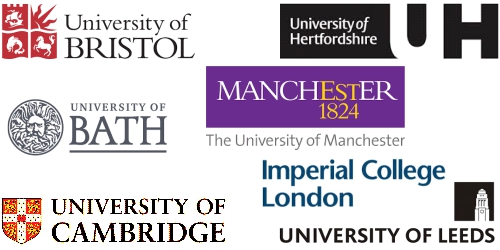 More about universities and supervisors
CAS News
Monday February 4th 2019
EPSRC make the formal announcement of the new Centres for Doctoral Training. Jonathan attends the launch event at the Stock Exchange in London. See the UK and Ireland Aerosol Society press release for more details.