2015 student cohort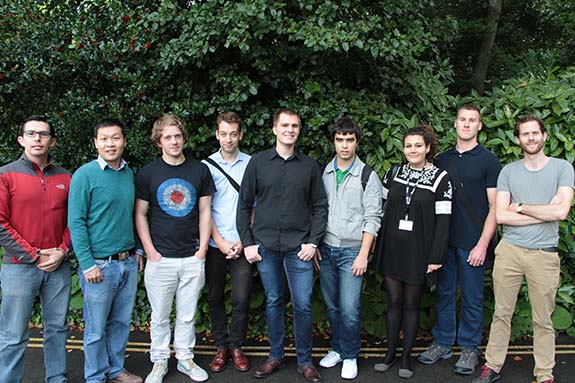 ---
Jennifer Chakravarty

Jennifer graduated in 2015 from the University of Bristol with an MSci in Mathematics.

"The CDT has provided me with a chance to change my field of study to a dynamic area of research. The taught year prepares students to take on research with many opportunities to work alongside industry."

Soon Yau Cheong

Soon Yau graduated from the University of Malaya with Electrical Engineering (First Class Honours, 2004) and the University of Sussex with MSc in Embedded Digital Systems (Disctinction, 2007). He gained valuable experience in wireless and RF technologies during his 7 years in wireless modem software development at Qualcomm Inc and Nvidia Inc before starting his PhD..

"Major technology breakthroughs often happen at intersection of different fields and I believe the multidisciplinary CDT in Communications at Bristol is the best nurturing place for that.."

Calum Hayes

Calum previously graduated from the University of Manchester with a BSc (Hons) degree in Mathematics.

"I feel very fortunate to have been given the opportunity to study at the University of Bristol CDT in Communications. It is a unique programme that brings together individuals from a wide variety of backgrounds and allows them to collectively make the transition to communications engineering. This helps facilitate truly interdisciplinary research."

Pawel Kowalski

Pawel graduated with an MEng in Engineering Design from the University of Bristol in 2015. During his studies he spent a year in industry working for GE Aviation Systems as a Systems Engineer. In addition to this he worked at GKN Aerospace and Somnium Technologies. His research interest include information fusion and sensor fusion, Internet of Things, systems engineering methodologies and embedded systems.

David Reyes

David graduated on a BSc in Electrical and Telecommunications Engineering at the Escuela Politecnica del Ejercito (ESPE) in 2007 (Quito - Ecuador). In 2014 he graduated with an MSc in Information Technology Managment at Pontificia Universidad Catolica del Ecuador (PUCE).

"Personally the CDT in Communications has been a great opportunity to return to academia after spending more than 7 years in the industry sector. The first taught year will help me to refresh all the knowledge acquired several years ago during my undergraduate studies as well as building up the foundations to develop the necessary skills to become a doctoral researcher."

Lawrence Sayer

Lawrence graduated in 2014 from Bristol University with an MEng in Electronic and Communications Engineering.

"I seized the chance to choose the CDT in Comms as it offers me the chance to undertake a Phd with tight links to industry. The taught first year will help focus my interests, before starting research in the exciting areas of communications."

Stavros Typos

Stavros studied in the University of Bristol and graduated with an MEng (Hons) in Electrical and Electronic Engineering in 2015. In his final year project, under the supervision of Professor David Bull, he investigated the perceptual gains that an increased frame rate provides to a user by using eye tracking experiments. His main research interests lie within the areas of Signal Processing, Wireless Networks and Communication Protocols.

"I chose to continue my studies in the University of Bristol because of its strong reputation in the communications sector. The CDT programme especially provides me a perfect opportunity to strengthen my background in communications during the first taught year units and workshops. A course definitely recommended for people either from an engineering - like myself - or even a pure science background."

Fred Wiffen

Fred graduated from Durham University in 2015 with an MEng in Electronic Engineering.

"Having only had the chance to cover the basics of communications during my undergraduate studies, I was drawn to the CDT in Communications because I believed the opportunity to first develop a deeper and broader understanding of the field would enable me to make the best decision about which area to focus on in my PhD, and give me a strong foundation on which to build a career in communications. The diverse mix of students, who come from a range of disciplines and academic & industrial backgrounds, means a good support network is developed during the taught year, with students able to lend their experience to other students tackling unfamiliar subjects."

Sam Young

Sam graduated from Oxford University in 2012, having studied an MMathPhil in Maths and Philosophy. After university, Sam worked as a Software Developer at IG index, programming financial charts and middleware for trading platforms.

"The CDT offers a solid grounding in Communications engineering to students with a Maths or Physics background, and the opportunity to apply interesting theoretical techniques to hard engineering problems from mobile communications."