View all news
Telegraph lists 'groundbreaking' Urban Pollinators project in top 10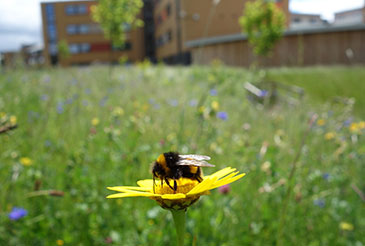 23 July 2015
The Urban Pollinators Project has been named one of ten groundbreaking research projects in the UK in the Telegraph.
The Urban Pollinators project is led by the University of Bristol , with academic partners at the University of Reading, University of Leeds, University of Edinburgh. It looks at urban pollinators in the UK and whether the addition of large-scale pollen and nectar resources in the form of introduced flower meadows can benefit urban pollinator populations.
Cabot Institute member
Dr Katharine Baldock
, School of Biological Sciences, who works on the project said "We are extremely honoured that our research features in this list of groundbreaking scientific projects. Helping pollinating insects is crucial to securing the future of our food supply. Everyone can do their bit to help by planting flowers that are good for bees and other pollinators. In Bristol we are applying the research findings at a local level during Bristol's Green Capital year, linking up projects as part of the
Get Bristol Buzzing initiative
.
Partnerships have been vital to the success of this project, with local councils and Wildlife Trusts on board right from the start. We're very pleased that partners in all four university locations are continuing to improve their local areas for pollinating insects."