Mock COP 26: Young people tackling intergovernmental climate politics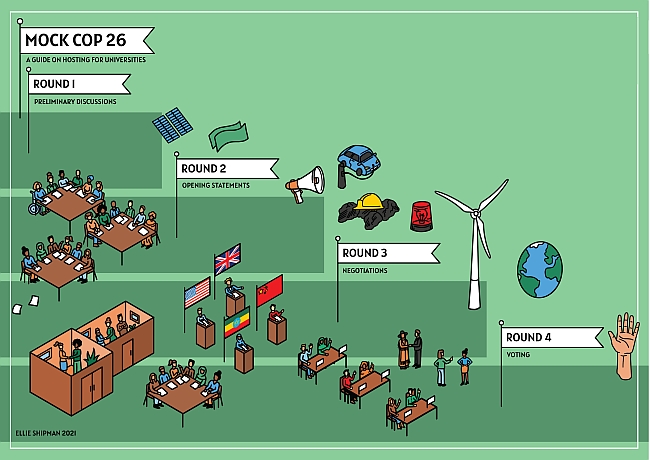 Bristol based Mock COP 26
The Mock COP 261 is an immersive negotiation exercise designed for 12 school groups of 60 A-Level students working to respond to the UNFCCC's call that we are facing a 'code red for humanity'. Each school sends a delegation of 5 students and is supported by a trained university student facilitator.
The students are encouraged to learn, engage, and share their insights in a creative collective effort of the 'art of the possible': to find common ground for intergovernmental climate agreements.
The student groups represent a country, intergovernmental organisation, international non-governmental organisation, or corporate company.
On the 30th March, 2021 11 schools from across Bristol and the surrounding areas took part in a 'COVID secure' online Mock COP26. The twists and turns of the day are shared below.
1United Nations Convention on Climate Change Conference of the Parties
The United Nations Framework Convention on Climate Change (UNFCCC) was established in 1992 to direct and coordinate international action on the mitigation of and adaptation to climate change. The Conference of the Parties (COP) is a meeting of 196 countries to the convention that takes place once a year.
The COP is the supreme decision-making body of the UNFCCC and consists of governmental delegations that meet to review mitigation and adaptation measures and negotiate future plans and actions, which include a variety of policies, voluntary objectives and international legal agreements.
The Mock COP
Three ex-Bristol PhD students, Jack Nicholls, Ed Atkins and Alice Venn designed and ran the first Mock COP in 2015 in the run-up to the Paris COP. Jack Nicholls, Emilia Melville, and Camille Strattmann, with support from the Cabot Institute of the Environment, re-deigned the 2015 Mock COP (as a Praxis Production) to engage and inspire school students in the run-up to COP 26 in Glasgow, taking place in November 2021.
The actors involved and schools representing them
United Nations High Commissioner for Refugees (UNHCR) - Churchill Academy and Sixth Form
People's Republic of China - V6 (Colston's Girls' School)
Federative Republic of Brazil - Weston College
Alliance of Small Island States (AOSIS) - Nailsea School
Greenpeace - MA.16 (Merchants' Academy)
Royal Dutch Shell - St Brendan's Sixth Form College
International Work Group for Indigenous Affairs (IWGIA) - St Bede's Catholic College
International Monetary Fund (IMF) - North Bristol Post-16 Centre
Federal Democratic Republic of Ethiopia - Bristol Cathedral Choir School
United States of America - Bristol Cathedral Choir School
United Kingdom of Great Britain and Northern Island - Clevedon School
The Kingdom of Sweden - Cotswold Edge Sixth Form
Overview of the day
The aim of the day is for each student group to navigate competing perspectives and interests via rounds of bilateral and multilateral meetings - trying to forge agreements with others to build consensus that can tackle the impending threats of a changed climate.
At the end of the day, the students vote on 7 resolutions that cover the key COP negotiation issues that will be faced in Glasgow. Once a majority vote is reached for each resolution the decision is unpicked and consequences considered.
The Mock COP is made up of 4 main rounds: Preliminary discussions, opening statements, negotiations, and voting.