View all news
Clinicians and researchers come together to develop new test for blood disorder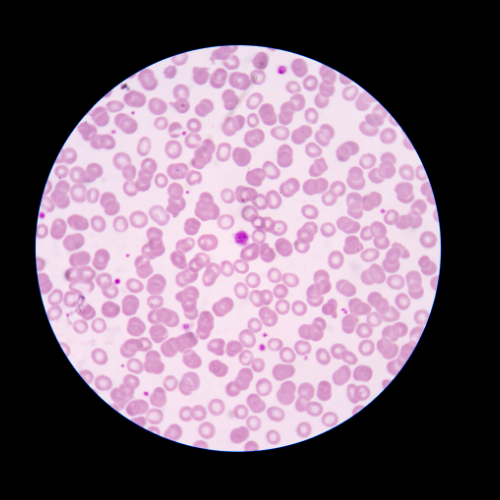 7 January 2020
Researchers at the University of Bristol are working on a new test to help treat a debilitating blood disorder, immune thrombocytopenia. Dr Charlotte Bradbury, consultant senior lecturer in the department of Haematology at the University of Bristol, submitted a challenge to researchers via the Elizabeth Blackwell Institute Research for Health scheme, which aims to pair up scientists and clinicians with an unmet need.
The issues with steroids
Immune thrombocytopenia (ITP) is an autoimmune blood disorder which means that patients are prone to bleeding and bruising due to a low blood platelet count. Bleeding can be life threatening (including into the brain) and has a high impact on the quality of life. Currently, the initial treatment following ITP diagnosis is with high doses of steroids to suppress the immune system, but this has several downsides. The majority of patients suffer significant side effects, and patients have a variable response to steroids, with some (20%) not responding at all, and the majority of others (70%) relapsing when treatment is stopped.
At present, there is no way to predict how successful the steroid treatment will be before starting it, and therefore a laboratory test which could predict patient response to the steroids treatments is urgently needed to help individualise treatments, ensuring that only the patients likely to respond to steroids have to suffer the side effects, while an alternative treatment is chosen promptly for those that are unlikely to respond.
Researchers answer
Dr Richard Lee and Professor Andrew Mumford, from the University of Bristol, proposed a solution whereby immune cells were isolated from the blood of ITP patients to examine how they responded to steroids in a laboratory test. The results were intriguing.
"Our team showed that immune cells from ITP patients who didn't respond to steroids produce less of the anti-inflammatory protein Interleukin (IL)-10, and more of the pro-inflammatory protein IL-17, compared to patients who successfully responded to steroids," said Richard Lee. "We hope to use these observations to develop a clinical test to predict steroid responsiveness, which will allow informed treatment decisions to be easily made."
Collaboration
Dr Bradbury, Dr Richard Lee and their team have used the pilot data generated to inform two new grants to take the work forward, one with the ITP support association which was successfully funded at £25k, and another with the British Medical Association for £49k. Dr Bradbury has also raised £58k of commercial funding for the venture.
"We are also working on novel approaches to make the assay more usable in real world clinical practice," said Dr Bradbury. "We will be using a new platform to assess immune cell responses, and we are collaborating with Darragh Duffy at the Pasteur institute in Paris to develop the needed technology (TruCulture)."
Dr Bradbury continued: "We have recently prospectively validated this biomarker in a separate cohort of newly diagnosed ITP patients who were recruited to the FLIGHT clinical trial."