Xenopus tadpole research projects (2004-2005)
Glutamate and acetyl choline co-release by spinal neurons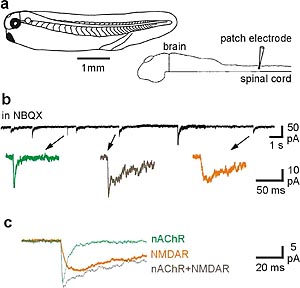 Most neurons release a single, fast acting, low-molecular weight transmitter at synapses to activate and open postsynaptic ion channels. We challenge this principle with evidence for corelease of the two major excitatory transmitters, glutamate and acetylcholine, from single, identified neurons in the developing frog tadpole spinal cord. Whole cell patch electrodes were used to record from single spinal neurons. When action potentials and inhibition were blocked, spontaneous miniature excitatory postsynaptic currents (mEPSCs) were recorded. These were only fully blocked by joint application of glutamate (AMPAR and NMDAR) and nicotinic acetylcholine receptor (nAChR) antagonists. Fast nAChR and slow NMDAR mEPSCs were isolated pharmacologically. We then showed that some mEPSCs have both the fast nAChR rise and slow NMDAR decay, and conclude that some individual synaptic vesicles corelease glutamate and acetylcholine. Whole cell recordings from pairs of neurons were then used to identify the spinal interneurons coreleasing the two excitatory transmitters. One anatomical class of interneuron with descending axons was found to excite other spinal neurons by activating nAChR, AMPAR and NMDAR simultaneously at its synapses.
Although Jonas, Bischofberger and Sandkuhler (1998) showed that the inhibitory transmitters GABA and glycine can be coreleased at spinal synapses, the Xenopus tadpole provides the first case where the two main CNS excitatory transmitters are released from single vesicles and where the presynaptic neuron coreleasing two transmitters has been identified.
---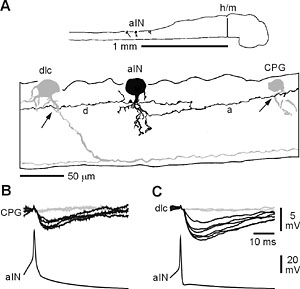 Primitive roles for inhibitory interneurons in developing frog spinal cord
Understanding the neuronal networks in the mammal spinal cord is hampered by the diversity of neurons and their connections. The simpler networks in developing lower vertebrates may offer insights into basic organisation. To investigate the function of spinal inhibitory interneurons in Xenopus tadpoles, paired whole-cell recordings were used. We show directly that one class of interneuron, with distinctive anatomy, produces glycinergic, negative-feedback inhibition that can limit firing in motoneurons and interneurons of the central pattern generator during swimming. These same neurons also produce inhibitory gating of sensory pathways during swimming. This discovery raises the possibility that some classes of interneuron, with distinct functions later in development, may differentiate from an earlier class where these functions are shared. Preliminary evidence suggests that these inhibitory interneurons express the transcription factor engrailed, supporting a probable homology with interneurons in developing zebrafish which also express engrailed and have very similar anatomy and functions.
---
A direct comparison of whole-cell patch and sharp electrodes by simultaneous recording from single spinal neurons in frog tadpoles
High impedance, sharp intracellular electrodes were compared to whole-cell patch electrodes by recording from single spinal neurons in immobilized frog tadpoles. A range of neuron properties were examined using sharp or patch test electrodes while making simultaneous recordings with a second, control patch electrode. Overall, test patch electrodes did not significantly alter the activity recorded by the control electrode, and recordings from the two electrodes were essentially identical. In contrast, sharp electrode recordings differed from initial control patch recordings. In some cases, differences were due to real changes in neuron properties: the resting membrane potential became less negative and the neuron input resistance (Ri) fell, this fall being larger for neurons with a higher Ri. In other cases the control patch electrode revealed that differences were due to the recording properties of the sharp electrode: tip potentials were larger and more variable; resting potentials appeared to be more negative; and spike amplitude was attenuated. However, sharp electrode penetration did not in most cases significantly alter the pattern of neuron firing in response to injected current or the normal pattern of activity following sensory stimulation or during fictive swimming. We conclude that sharp electrodes introduce a significant leak to the membrane of tadpole spinal neurons compared to patch electrodes, but that this does not change the fundamental firing characteristics or activity of the neurons.
---
A new whole-cell patch method for study of spinal neurons in Xenopus tadpoles.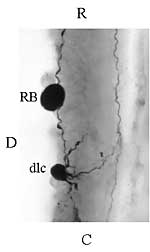 Li, W-C., Soffe, S.R and Roberts, A.
Sharp electrode recording from tadpole spinal neurons, especially interneurons, is very difficult and may change the neuron's electrical properties. We have devised a patch-clamp recording system using a compound microscope. Electrodes can be placed onto one or two individual neurons which are visible in immobilized tadpoles after suitable dissection of the spinal cord (see right). By using neurobiotin neurons can be filled for later examination of anatomy (see right below). Swimming and struggling activities can be initiated by electrical skin stimulation. The success rate of recording from spinal interneurons has been considerably enhanced. So we are able to evaluate the contribution of different types of interneurons to swimming and struggling. Our results suggest that nearly all premotor interneurons are rhythmically active during struggling. However, during swimming, many of the interneurons in the dorsal spinal cord show rather different patterns of synaptic drive and are much less active than more ventral cells (see below). This suggests that many interneurons are held in reserve for more violent escape behavior like struggling.

---
Identification of spinal neurons responding to activation of a pathway that stops swimming in Xenopus tadpoles using intracellular recording and neurobiotin injection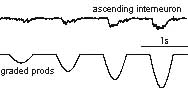 Although rhythmic behaviours can stop by simply running down, they are normally terminated by the appropriate sensory stimulus (or lack of stimulus). Swimming in Xenopus tadpoles has been extensively used as a simple model system in which to study various features of the neural basis of rhythmic behaviour. In Xenopus, both swimming and fictive swimming can be stopped by pressure to the head skin or cement gland. Previous studies suggested that the pathway from head skin to spinal central pattern generator (CPG) involves activity of trigeminal neurons, excitation of midhindbrain reticulospinal neurons and GABAergic inhibition of presumed motorneurons. It remained unclear whether this inhibition also effected other levels of spinal circuitry involved in swimming (CPG interneurons, sensory interneurons, primary sensory neurons). This was mainly because anatomical identification of neurons by intracellular dye injection has been very difficult due to the high resistance of the electrodes needed to make good physiological recordings (150-200 MW). However, by using 2% neurobiotin in 2 M potassium acetate we have recently been able to get good recordings and well filled cells. Filled neurons were visualized using avidin conjugated horse radish peroxidase followed by reaction with diamino benzoate and H2O2. Using this technique we have shown that neurons with anatomy matching both motorneurons and premotor interneurons receive inhibition following pressure to the cement gland. We are currently investigating if sensory neurons and interneurons in the spinal cord which are involved in starting swimming in response to a touch to the tail skin are also inhibited by this higher pathway.
---
Mechanisms and significance of reduced activity and responsiveness in resting frog tadpoles
Throughout the animal kingdom descending inhibitory pathways influence behaviour. These pathways may tune responsiveness as a result of their tonic activity. When the hatchling (stage 37/38) Xenopus laevis tadpole swims into solid objects, it stops swimming and attaches with mucus secreted by a cement gland on the front of the head. Pressure to the cement gland excites trigeminal sensory neurons. These activate a descending inhibitory pathway that is able to terminate swimming through GABA mediated inhibition of spinal neurons (Boothby & Roberts 1992) We propose that continuous activity of this pathway is responsible for the reduced responsiveness of tadpoles when they hang motionless, attached by a strand of mucus from their cement gland. To investigate, this we made multi-unit recordings of the impulse activity of the trigeminal sensory neurons in the pathway. These demonstrated a sustained increase in impulse firing rate during attachment (see graph). Single unit recordings confirmed the increase in firing when tadpoles are attached. In addition they showed that both spontaneous activity and activity while attached is irregular and has no apparent pattern.