Xenopus tadpole research projects (2001-2003)
The spinal interneurons and properties of glutamatergic synapses in a primitive vertebrate cutaneous flexion reflex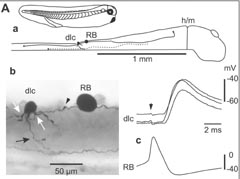 Unlike the monosynaptic "stretch" reflex, the exact neuronal pathway for a simple cutaneous reflex has not yet been defined in any vertebrate. In young frog tadpoles we have made whole-cell recordings from pairs of spinal neurons. We have found direct, excitatory, glutamatergic synapses from touch sensitive skin sensory neurons to sensory pathway interneurons, and then from these sensory interneurons to motoneurons and premotor interneurons on the other side of the body. We conclude that the minimal pathway for this primitive reflex, where stroking the skin on one side leads to flexion on the other side, is disynaptic. This detailed circuit information has allowed us to ask whether the properties of glutamatergic synapses during the first day of CNS development are tuned to their function in the tadpole's responses. Stroking the skin excites a few sensory neurons. These activate mainly AMPA receptors producing short, strong excitation that activates many sensory pathway interneurons but only allows temporal summation of closely synchronous inputs. In contrast, the excitation produced in contralateral neurons by the sensory pathway interneurons is weak and mainly mediated by NMDA receptors. As a result, considerable summation is required for this excitation to lead to post-synaptic neuron firing and a contralateral flexion. We conclude that from their early functioning, synapses from sensory neurons are strong and from sensory pathway interneurons are weak. The distribution of glutamate receptors at synapses in this developing circuit is tuned so that synapses have properties suited to their roles in the whole animal's reflex responses.
---
Modelling Inter-segmental coordination of neuronal oscillators: 1. synaptic mechanisms for uni-directional coupling during swimming in Xenopus tadpoles
Locomotion requires longitudinal co-ordination. We have examined uni-directional synaptic coupling processes between two classes of neuronal network oscillators: autonomously active "intrinsic" oscillators, and "potential" oscillators that lack sufficient excitatory drive for autonomous activity. We model such oscillator networks in the bilaterally-symmetrical, Xenopus tadpole spinal cord circuits that co-ordinate swimming. "Glutamate" coupling EPSPs can entrain a second oscillator of lower frequency provided their strength is sufficient. Fast (AMPA) EPSPs advance spiking on each cycle, while slow (NMDA) EPSPs increase frequency over many cycles. EPSPs can also enable rhythmicity in "potential" oscillators and and entrain them . IPSPs operate primarily on a cycle-by-cycle basis. They can advance or delay spiking to entrain a second "intrinsic" oscillator with higher, equal or lower frequency. Bilaterally symmetrical coupling connections operate twice per cycle: once in each half-cycle, on each side of the receiving oscillator. Excitatory and inhibitory coupling allow entrainment in complimentary areas of parameter space.
---
Sensory Activation and Role of Inhibitory Reticulospinal Neurons that Stop Swimming in Hatchling Frog Tadpoles
Ray Perrins, Alison Walford, and Alan Roberts 2002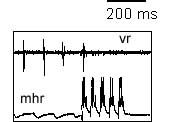 Activity in neuronal networks underlying locomotion and other rhythmic actions can start and stop in response to specific sensory stimuli. In vertebrate locomotion, some reticulospinal neurons such as Mauthner neurons can initiate activity, but the neurons controlling stopping are not defined. We have studied swimming in tadpoles of the frog, Xenopus, which is started by touching the skin and stops when the head contacts a solid surface. Using an immobilized tadpole preparation, the same stimuli control fictive swimming. When head contact is imitated by pressure to the head skin sensory neurons in the trigeminal ganglion are active, spinal neurons receive GABAergic inhibition, and swimming stops. Here we record intracellularly from neurons in the hindbrain that are excited by pressure or electrical stimulation to the head skin. By intracellular filling with neurobiotin, we identify these anatomically as mid-hindbrain reticulospinal neurons (MHRs). These have contralateral descending projections to the spinal cord and GABA-like immunoreactivity. They are rhythmically inhibited during fictive swimming. Individual MHRs reliably stopped ongoing swimming when brief firing was induced by intracellular current injection. The ability of individual MHRs to stop swimming was blocked by the GABAA antagonist bicuculline. Our evidence indicates that MHRs receive direct excitation from trigeminal sensory neurons and in turn release GABA to directly inhibit spinal neurons and turn off the swimming central pattern generator.
---
Discriminating classes of spinal interneuron in Xenopus tadpoles
Wen-Chang Li, Ray Perrins, Masa Yoshida, Alison Walford and Alan Roberts 2001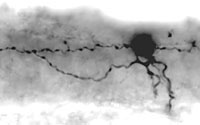 One of our central goals is to define the anatomy and function of all spinal neuron classes in the Xenopus tadpole. Earlier papers have defined the features of motoneurons, reciprocal inhibitory "commissural" interneurons and "dorsolateral commissural" interneurons which carry sensory excitation across the spinal cord. Our present project is using Neurobiotin injected into individual neurons to reveal the anatomical features and axonal projection patterns of spinal interneurons. We are examining four classes of interneuron in detail: ascending, dorsolateral ascending, descending and dorsolateral commissural. Clear discriminations can be made and criteria established to characterize the three classes of interneuron with ipsilateral axonal projections. Using the identifying criteria that we have established, we will define the distribution and axonal projection patterns of the four classes of interneuron. Then, using data from GABA immunocytochemistry, on the distribution of the population of ascending interneurons together with the results from the axonal projection data, we hope to estimate the synaptic output of this class of interneuron.
---

Unravelling the functional projection distances of spinal neurons: inhibitory "commissural interneurons"
Soffe, Zhao and Roberts, 2001
To extend the purely anatomical predictions for reciprocal inhibitory "commissural interneurons" in young Xenopus tadpoles, we then examined the functional projection distances for their longitudinal axons in the spinal cord. In quiescent animals, glycinergic IPSPs were evoked in ventral spinal neurons by stimulating small rostral and caudal groups of commissural interneuron somata at different distances on the opposite side of the hindbrain and spinal cord. Unitary IPSPs, produced by single synaptic contacts, could be distinguished from background noise. Local cord stimulation at different distances revealed maximum functional projection distances up to ~0.5 mm for both descending and ascending axons but with the probability of recording connections falling steeply over this distance. These maximum longitudinal projection distances are smaller than predicted by axonal anatomy (~1.2 mm). We then measured functional projection distances during swimming by examining the synaptic output of a surgically isolated group of rostral commissural interneurons (see right), mapping the occurrence of the mid-cycle, reciprocal IPSPs they produced in more caudal neurons. IPSPs occurred with high probability up to 0.9 mm away (see right), nearly twice the projection distance found in quiescent tadpoles. These results show that synaptic contacts from commissural interneurons could influence longitudinal coupling during swimming at distances of up to 0.9 mm (~4-5 myotome segments or ~25% of the spinal cord). They provide direct evidence for functional projection distances of a characterised class of interneurons belonging to a spinal locomotor pattern generator.