Xenopus tadpole research projects (1998-2000)

Orientation of escape swimming in embryos and hatchling tadpoles of Xenopus laevis
Many amphibian tadpoles hatch and swim before their inner ears and sense of spatial orientation differentiate. We investigated upwards and downwards swimming responses in hatchling Xenopus tadpoles from stages 32 to 37/38 where the body rotates about its longitudinal axis. Tadpoles are heavier than water and if touched while lying on the substrate they reliably swim upwards, often in a tight left or right handed spiral which is not fixed for individual tadpoles. In `more horizontal swimming' the tadpoles usually swim belly-down. Newly hatched tadpoles spend 98% of their time hanging tail-down from mucus secreted by a cement gland on the head. When suspendedlike this, tadpoles from stage 31 to 37/38 tend to swim spirally down when touched on the head and up when touched on the tail. Tadpoles spiralled for 70% of swimming time and the probability of spiralling increased to 1 as swim path angles became more vertical. When anesthetised tadpoles were neutrally buoyant they floated belly-down and head-up at 30 degrees. In water, their centre of mass was ventral to the muscles in the yolk mass. A simple mathematical model suggests that the orientation of tadpoles during swimming is governed by the action of two torques, one of which raises the head (i.e. increases the pitch) and the other rotates (rolls) the body. Consequently, tadpoles (a) swim belly-down when the body is approximately horizontal because the body is ballasted by dense yolk in the belly region, and (b) swim spirally at more vertical orientations when the ballasting no longer stabilises their orientation. Measurements in tethered tadpoles showed that dorsal body flexion, which could produce a dorsal pitch torque, is present during swimming and increases with swimming frequency. Much of the tadpole's behaviour can be explained by our mathematical model and we suggest that, at this stage of development, oriented swimming responses may depend on simple touch reflexes, the organisation of the muscles, and physical features of the body, rather than on vestibular reflexes.
---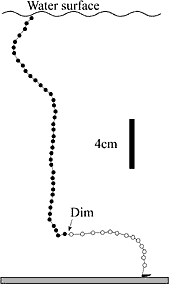 Does the pineal eye help tadpoles to find objects that cast shadows?
When the light is dimmed, the pineal eye of hatchling Xenopus laevis tadpoles excites the central pattern generator for swimming but the behavioural significance of pineal excitation was unclear. Tadpoles spend 99% of their time hanging from the surface meniscus or solid objects using mucus secreted by a cement gland on the head. Attachment inhibits swimming but unattached tadpoles swim spontaneously. Provided their pineal eye is intact they attach closer to the water surface in the dark than in the light and attach preferentially to the underside of floating objects which cast shadows. Dimming causes tadpoles swimming horizontally to turn upwards (see picture), and is very effective in initiating upwards swimming in unattached tadpoles. Similar pineal dependent responses during swimming are present up to stage 44 but pinealectomy blocks responses to dimming at all stages. Recordings in immobilised tadpoles reveal that dimming leads to faster swimming and that pineal activity is increased for up to 20 minutes during sustained dimming. We suggest that the increase in pineal discharge during dimming increases the probability of upwards swimming and in this way increases the probablity of tadpoles attaching to objects higher in the water column which cast shadows.
---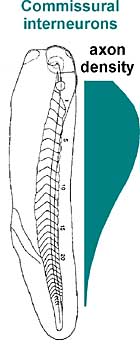 Revealing the axonal projection pattern of a characterised population of spinal interneuron
Yoshida, Roberts and Soffe, 1998
The basis for longitudinal co-ordination among spinal neurons during locomotion remains poorly understood. We have examined the morphology and longitudinal axon projections of a population of spinal commissural interneurons, in young Xenopus tadpoles. We aimed to define how the distribution of axons of the whole population constrains the longitudinal distribution of the inhibition they mediate. Forty-three neurons at different positions were filled intracellularly with biocytin and processed with avidin-conjugated horseradish peroxidase. Soma size did not vary longitudinally and only one ipsilateral axon was found. Contralateral axons ascended, descended or usually branched to do both. Total axon length and the extent of dendritic arborisation decreased caudally. The distributions of ascending and descending axon lengths were different; there were more long ascending than long descending axons. We used the axon length distribution data with existing data on the distribution of commissural interneuron somata to calculate the overall longitudinal density of these inhibitory axons. Axon numbers showed a clear rostro-caudal gradient. Axon length distributions were then incorporated into a simple spatio-temporal model of the forms of inhibition during swimming and struggling motor patterns. The model predicts that the peak of inhibition on each cycle will decrease from head to tail in both motor patterns, a feature already confirmed physiologically for swimming. It also supports a previous proposal that ascending inhibition during struggling shortens cycle period by shortening rostral motor bursts, while descending inhibition could delay subsequent burst onset.