Bat Ecology and Bioacoustics Lab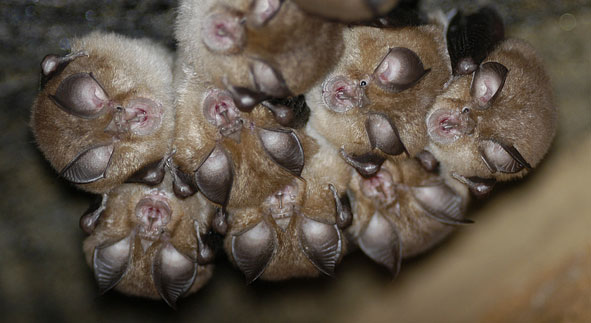 The Bat Ecology and Bioacoustics Lab conducts research on the ecology, behaviour and conservation biology of bats. The head of the lab is Professor Gareth Jones, and the current staff complement includes three honorary staff, two post-doctoral research assistants and ten post-graduate students.
Facilities
Our facilities include:
A variety of bat-detectors and digital acquisition devices for use in the field (Ultra Sound Advice, Pettersson)
Two four-wheel drive lab vehicles
Brüel and Kjær and Larson-Davis high-frequency microphones
Pettersson Electronik 'BatSound' sound analysis systems
7 Anabat recording systems
Avisoft sound analysis software
Infra-red video
Radio telemetry equipment and software for animal movement analysis
Digital stereovideogrammetry and stereophotogrammetry systems
A variety of apparatus for the broadcast and manipulation of ultrasound
Molecular ecology equipment up to PCR stage (including DNA Engine thermal cycler)
Thinking of doing a PhD?
Contact Information
Bat Ecology and Bioacoustics Lab
School of Biological Sciences
University of Bristol
Woodland Road
Bristol BS8 1UG
United Kingdom.
tel. (lab) +44 (0) 117 954 6386
fax. (department) +44 (0) 117 928 7374
This site has been invited by the British Library to participate in the UK Web Archiving Consortium Pilot Project.