Identifying key determinants of antimicrobial use in Asia
Researchers in the UK and China are investigating pathways to optimizing antibiotic use in community and clinical settings in rural China.
What is the problem?
Widespread antibiotic use is a major contributor to the growing problem of antimicrobial resistance in many countries. While China has developed policies to tackle AMR that have had some effects, levels of antibiotic prescribing and consumption remain high. There is still very limited evidence regarding the key drivers for this in China, particularly in rural areas and at lower levels of the health system (i.e. outside urban hospitals).
Much AMR research in China focuses on microbiological and genomic characterisation but many other important questions need further exploration, including: where do rural residents seek health care for bacterial infections (eg. respiratory and urinary tract infections); what drives antibiotic provision – both prescribed and purchased without prescription; and what are the relationships between patient-reported symptoms, clinical diagnosis, antibiotics prescribed in clinical facilities and the burden of antibiotic resistance in non-hospitalised patients?
What is the approach?
Based on a partnership with Anhui Medical University in Hefei, China, a three-year collaborative project, led by the ESRC's former AMR Research Champion - Prof Helen Lambert (Bristol Medical School) - is an innovative interdisciplinary study which will develop greater understanding of current patterns of antibiotic purchasing, prescribing and consumption in rural areas.
Using a mixed methods approach, the study will characterise treatment-seeking pathways in the rural population and ascertain the relationship between presenting symptoms and clinical diagnosis, assess the completeness of medical records as a potential tool for future monitoring of antibiotic prescribing, and determine whether it is possible to measure the burden of antibiotic resistance in non-hospitalised patients through a microbiological study. This will enable us to estimate how far the reported prevalence of antibiotic resistance derived from hospital-based surveillance is representative of this rural population and to formulate recommendations for appropriate interventions to optimise the use of antibiotics in this region.
Outcome and next steps
This research will benefit Chinese patients, clinicians and policy makers looking to optimise antimicrobial stewardship and reduce antibiotic resistance in China. Identification of the current drivers of antibiotic prescribing in Anhui Province will be relevant to health services delivered in both hospital and community health care settings and both urban and rural areas. Resulting policy change recommendations will inform behaviour and service changes which will reduce antibiotic prescribing and AMR in Anhui and are likely to be transferable to other areas of China.
The team plan to build on this collaborative project to further strengthen the research links between University of Bristol and relevant institutions in China, promoting the exchange of expertise and producing internationally excellent research.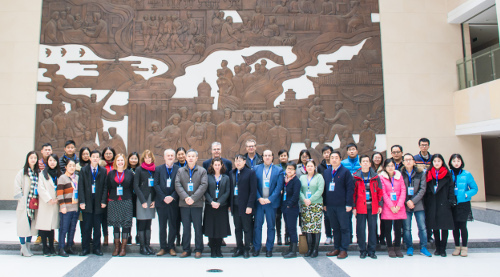 Researchers involved
Prof Helen Lambert (Bristol Medical School)
Prof Alastair Hay (Bristol Medical School)
Dr Christie Cabral (Bristol Medical School)
Dr Meixuan Chen (Bristol Medical School)
Prof Alasdair MacGowan (North Bristol NHS Trust)
Prof Matthew Hickman (NIHR Health Protection Unit in Evaluation of Interventions; HPRU)
Dr Isabel Oliver (Public Health England and NIHR HPRU)
External collaborators
Dr Debin Wang (Anhui Medical University, China)
Dr Paul Kadetz (Xi'an Jiaotong Liverpool University)
Prof Susan Michie (University College London)
Funding
Newton Fund AMR UK-China Partnership/MRC UK
In China: National Natural Science Foundation of China (NSFC)
Press releases and useful links